'Proud to do our bit' for Armistice centenary
Nov 11, 2018 in Leightons News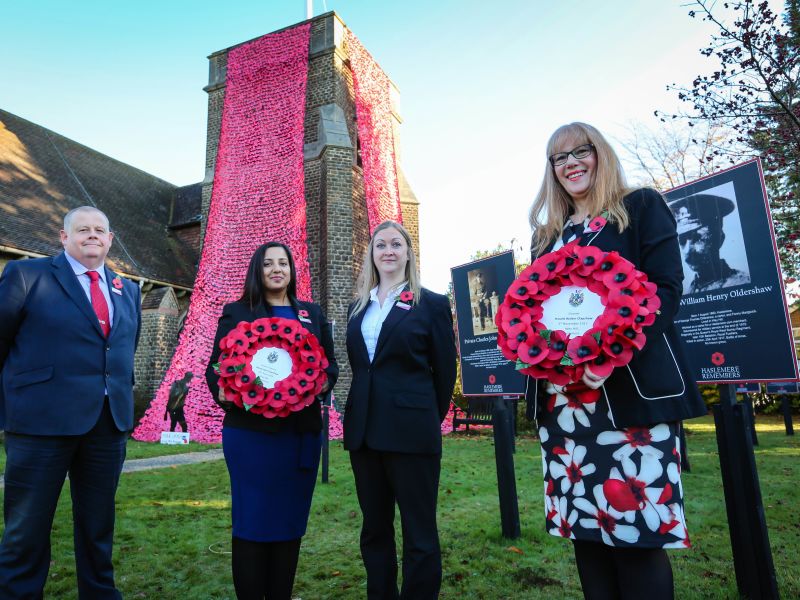 Leightons Haslemere has commemorated the Armistice centenary through a 'close-to-home' connection.
Team members sponsored a poppy cascade artwork at St Christopher's Church opposite our branch in Wey Hill along with repairs to the church flagpole and cross.
And in the run-up to Remembrance Day itself, we worked with the local town council to hang three very special wreaths in our doorway. The move was in support of the council's initiative to position personalised wreaths at addresses associated with all 145 names on local war memorials.
Leightons is on the ground floor of Clay House, where two young brothers whose names appear lived before going off to fight in the trenches more than a century ago.
Gunner Harold Walter Clapshaw, who had been a gardener, was killed in action in 1917 serving with the Royal Garrison Artillery. He was only 21years old.
Harold's older brother, Henry John Clapshaw, was a labourer before joining the Royal Sussex Regiment where he was promoted from Private to Lance Corporal. Henry survived the war itself but died of bronchial pneumonia in 1919 aged 31.
The third wreath commemorates Wey Hill resident Private William Henry Oldershaw, a carter for a corn merchant, who was serving with the Royal Fusiliers when he was killed in action aged 33 in 1917.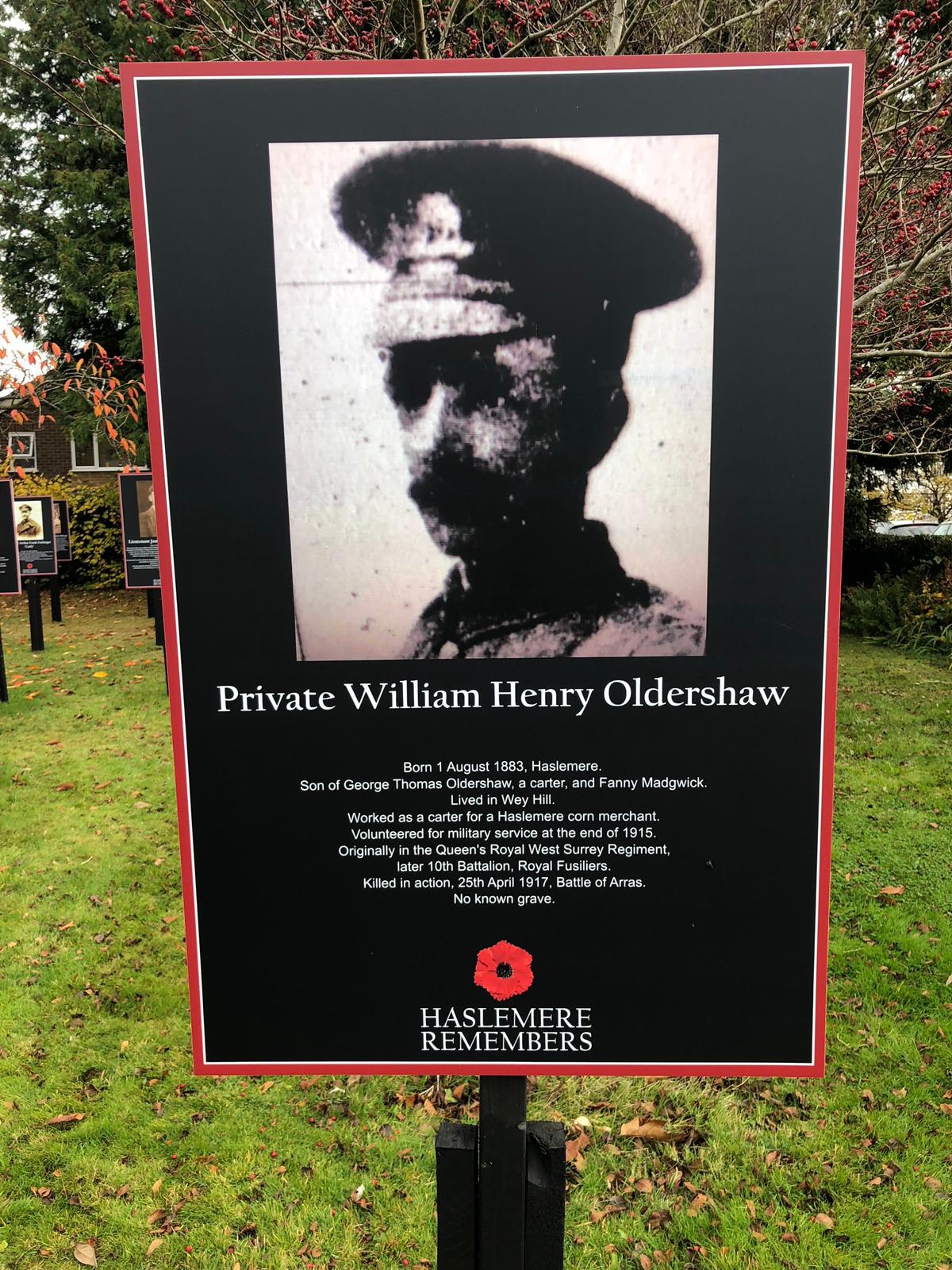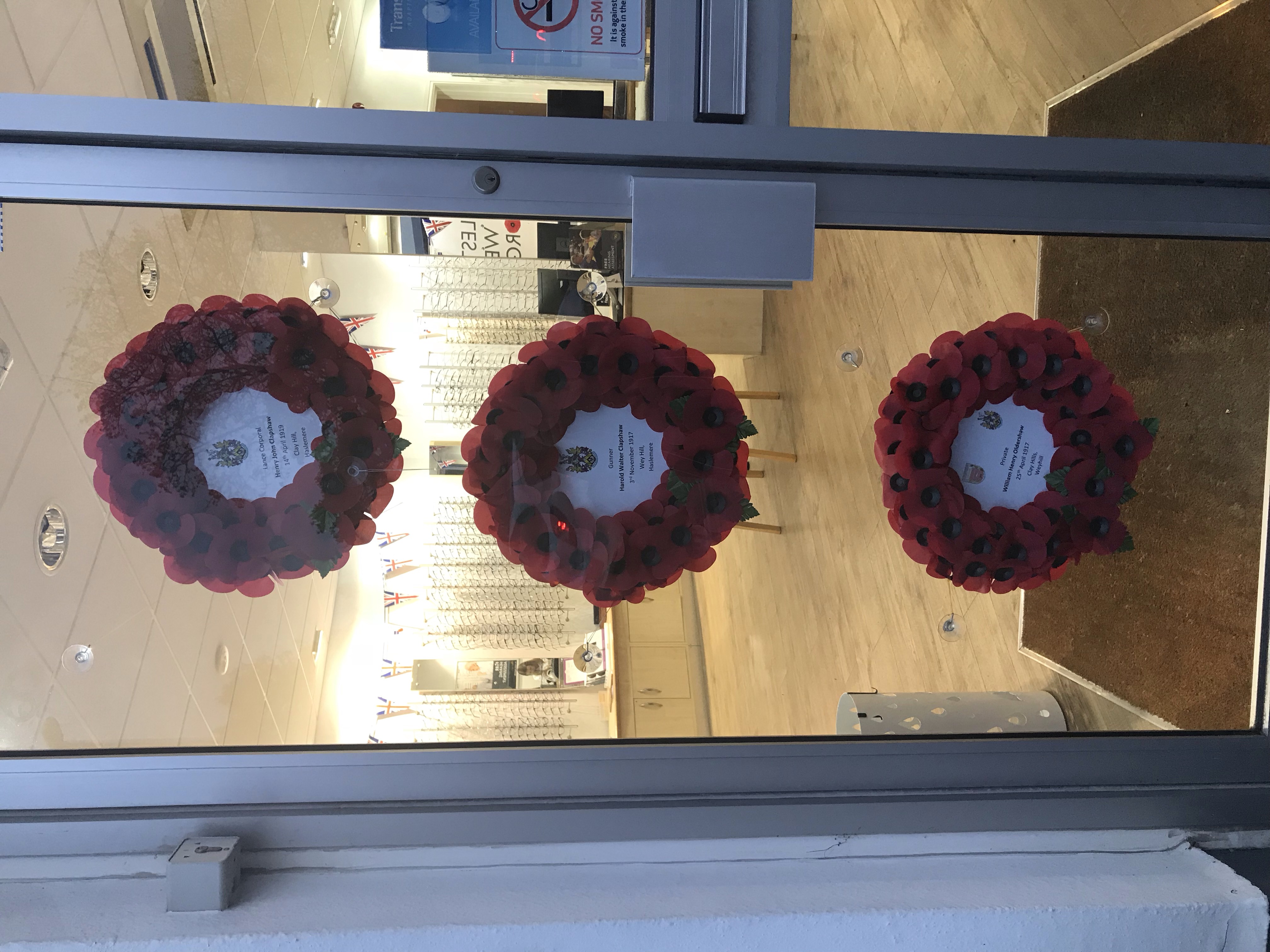 Leightons, which was founded just ten years after the war in 1928, established its Haslemere branch in the late 1930s.
Branch Manager Lynda Skeldon said: "Both world wars have had such a huge local impact, even down to the building we occupy.
"As well as honouring the memories of the Clapshaws and Private Oldershaw, we've been reflecting on the fact that during World War Two managers at Leightons, all of whom were men at that time, went off to fight leaving their wives to run the branches, including here in Haslemere."
From writing love letters by candlelight in the trenches to today's ultra-advanced eye tests, we have also been researching the transformation in eye care over the past century.
Lynda said: "It's amazing to think that in the First World War some servicemen lied about their vision and cheated eye exams to enlist. We know there was a unit in the army dedicated to making and repairing soldiers' spectacles. Lenses then would have been made of glass not safety plastic as they are today. As a result, they would have broken easily and been difficult to replace. The frames would possibly be gold and horn rimmed or tortoiseshell from the hawksbill sea turtle. If this broke it could be repaired by splicing the shell back together - a finely skilled art. This is now illegal of course, and most frames today are made from cotton acetate which is easily able to be dyed many colours to imitate tortoiseshell."
As well as eye care, we have offered a dedicated hearing care service for the past 12 years and can assist service veterans through the process of applying for grants towards hearing aids via the Royal British Legion's Veterans Hearing Fund.
Stuart Roberts, Leightons Hearing Aid Audiologist, said: "Due to the lack of awareness of noise-induced hearing loss until more recent times, successive generations of army, naval and air force service personnel had great problems with hearing in their later years, a further sacrifice given to their country during wartime."
Organisers of Haslemere's Remembrance activities have thanked the Leightons team for our support this year.
Ken Griffiths, who chairs the town's centenary commemoration committee, said: "Without the support and contributions of businesses such as Leightons we simply couldn't have staged our centenary commemorations."
Leightons Chief Executive Ryan Leighton, grandson of company founder H. O. Leighton, said: *"We're proud to do our bit to support the Armistice commemorations in this centenary anniversary. Giving something back to the communities we serve is part of what makes our branches so special."