Explaining the Extraordinary
Sep 09, 2021 in Eye Tests
Here at Leightons we don't just do ordinary, in fact, we constantly strive for the extraordinary in everything we do, and as our patients, we want you to share that experience with us!
We invest in the latest technology across our practices to help us conduct the most thorough examination of your vision, but have you ever wondered what the machines do and tell our optometrists?
A glance to the past
Whilst many of us know what to expect when we arrive for our eye examination, it's hard to imagine where it all began. For centuries, people have been conducting their own versions of sight tests; the first ever recorded attempt to measure the performance of human vision was a test to discover whether someone could distinguish stars in the night sky.
Over the centuries there have been countless discoveries and inventions made within the world of optics, many of which can still be found in practice today.
A long standing part of any eye examination is having to identify letters on a white background, which progressively become smaller. This is known as the Snellen eye chart and was born in 1862. This method of testing quickly caught on within the vision care profession and is still as popular in its use today.
Another important piece of equipment we've held onto all these years is an ophthalmoscope, a handy piece of kit which has been helping us examine the back of the eye for the past 150 years.
But let's not stay stuck in the past for too long when the here and now is even more exciting...
Out with the old, in with the new
The astonishing advances in modern technology allow us to see even more of your eye than we've ever been able to before, enabling our optometrists to conduct an examination of your vision to the highest possible standard!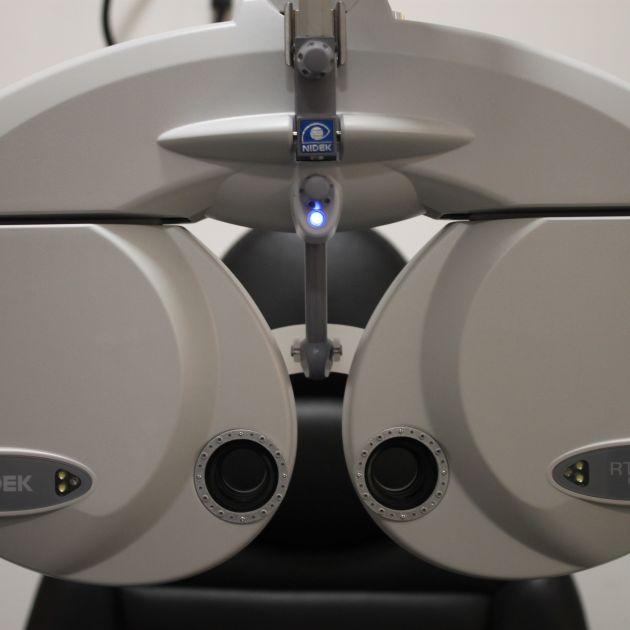 Even the way we work out your prescription has changed over the years and we are constantly investing in the newest technology across our practices to aid in this. Whilst trial frames are still an extremely useful tool in practice, they can be uncomfortable for some. These days, we are increasingly more high tech! A Phoropter, whilst bearing a small resemblance to a pair of binoculars, is an amazing piece of kit, offering an efficient alternative to the trial frame.
Not only does the use of Phoropter mean for a more comfortable patient experience with no extra weight on your nose, but the digital results it produces are extremely accurate too!
Remember the trusty ophthalmoscope we introduced you to? Well that pioneering piece of equipment, which not only checks the back of the eye but also allows us to thoroughly review the front of the eye, has also received its 21st century upgrade . Julia Bubb, our Haslemere Optometrist, explains in more detail.
"The digital slit lamp enables a more comprehensive examination than the traditional ophthalmoscope; allowing the capture of high quality images and videos, subtle changes to the external eye are easy to monitor and demonstrate to the patient."
Ultimately Extraordinary
It's important to us at Leightons to deliver our patients a quality in everything we do, not only across the vast range of products we offer, but in services we deliver to our patients on a daily basis. With this in mind we created our most comprehensive eye examination to date, the Ultimate Eye Examination.
Partnering the most extraordinary technology with the expert knowledge of our optometrists, we will help you not only see, but understand the unseen. To explain why our optometrists love the Ultimate Eye Examination so much we spoke to Heena Bharadia, from our Lewes practice.
"The Ultimate Eye Examination from an optometrist's perspective is the most thorough eye exam available. It allows us to recognise conditions early, monitor existing conditions and most importantly allows peace of mind for both the optometrists and their patients."
The Ultimate Eye Examination utilises two key instruments, Optomap and OCT, in our comprehensive imaging package. Using these we are able to capture incredibly detailed 2D & 3D images of the inside of your eye.
Our Optomap captures an ultra-wide panoramic image, allowing us to see up to 80% of the surface of your retina.
An OCT captures a cross-section view of the many layers of tissue beneath the retina's surface, which can help us identify any abnormalities up to five years before a traditional test spots them[1].
Book an appointment
To book your Ultimate Eye Examination, you can book an appointment online or call our Dedicated Patient Support team on 0800 40 20 20.
Please note the Ultimate Eye Examination is only available in selected practices, for the full list click here.
[1] Clinically Detectable Nerve Fiber Atrophy Precedes the Onset of Glaucomatous Field Loss Alfred Sommer, MD, MHSc; Joanne Katz, MS; Harry A. Quigley, MD; et al Neil R. Miller, MD; Alan L. Robin, MD; Ronald C. Richter, MD; Kathe A. Witt, COMT Arch Ophthalmol. 1991;109(1):77-83. doi:10.1001/archopht.1991.01080010079037