Hear This Christmas Like You Used To
Nov 30, 2016 in Hearing Care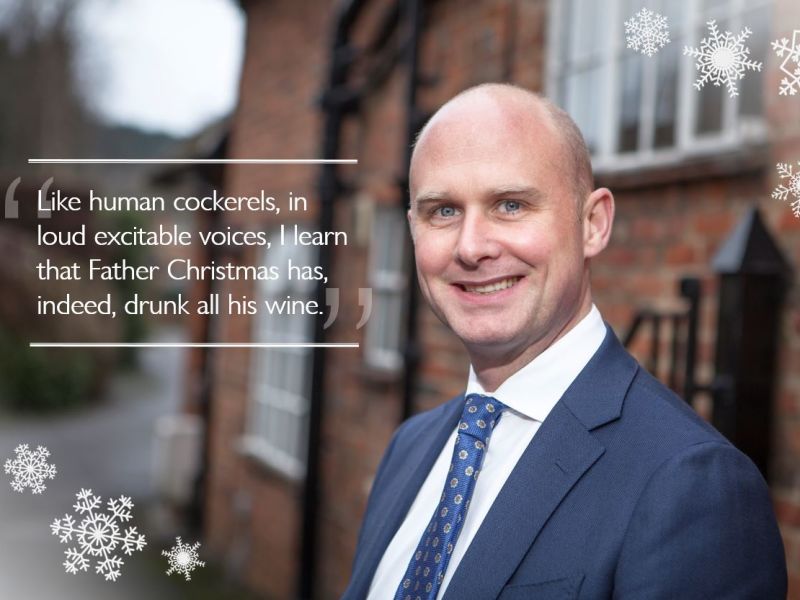 Think of Christmas and what springs to mind? The sights? Christmas lights twinkling on the tree? Or the smells? The heady mix of pine and freshly cut wood or wafts of cinnamon spiced mulled wine?
For many of us, it's the sounds that connect us emotionally (and nostalgically) to Christmas. Those old familiar carols that make our hearts swell. Or classics that bring back a flood of memories from Christmases past. It's the hubbub of Christmas morning, with squeals of delight from excited grandchildren, the merry banter of conversation around the dinner table or the crackle and spit of the fire. These sounds, born out of age-old family traditions, strengthen our connection to Christmas and to the loved ones with whom we share it.
Our new campaign takes a lighter look at Christmas and celebrates the sounds we love to hear at this special time of year. It encourages people to think about hearing loss and hearing well, and to enjoy the magic of those sounds once more.
That got me thinking about the sounds that make up my Christmas. Some I love, some can be a touch annoying. But together, they so perfectly characterise the sounds that make Christmas special:
It's Christmas Day. I know this because it's 5am and the young ones in the house have woken up. Like human Christmas Day cockerels, in loud excitable voices, I learn that Rudolph has eaten all the carrots and Father Christmas has, indeed, drunk all his wine. This might be one of those sounds that I would happily switch off, but if I'm honest… not hearing this special wake up call, once a year, would be so much sadder than the excitement it brings.
Then it's the gifts being unwrapped. Paper is ripped off, and I hear gasps and shrieks as each toy is revealed. The house comes alive with the sound of dolls crying, robots beeping and remote control cars whirring around the living room.
The phone or laptop is ringing, and it's loved ones from far-flung places calling to wish us a Merry Christmas.
After all that early morning commotion, we love to go for a walk. So on go the coats, up go the zips and slam goes the front door. We step out into the silence. And there's no one around, except for the robin, flitting from tree to tree. If we're lucky, there's the crisp crunch of frost underfoot and the sound of the wind blowing through the leafless trees. I love the quiet and stillness of these mornings, that you really only experience on Christmas Day and New Year's Day.
When we get back, the kitchen is in full flow. Champagne corks pop. Glasses clink. The air is filled with carols and classics. Hearing those first few lines: We're walking in the air. We're floating in the moonlit sky. The people far below… Suddenly I feel the rush of all the Christmases that have come before and the people who have shared them, past and present.
When we sit down to lunch, there's the noisy din of conversation. Crackers go bang. Jokes are told. And stories are shared. It's a time to come together and reconnect.
Later, once the dishes are cleared, it's time for the Queen's Speech – always a Christmas Day ritual in our house. We can just about hear it over the snores from the sofa.
Come evening time, it's time for charades – eagerly anticipated and keenly contested. For one person in the room, it's all action and no sound. For the rest of us, it's a guessing game. Which, when I reflect on it, is how it may feel to experience Christmas with a degree of hearing loss.
Sadly, not everyone experiences the sound of Christmas as they used to. One in six of us suffer from sensorineural hearing loss, affecting 10 million people nationwide. It's caused by damage to the sensitive hair cells inside our inner ear or by damage to the auditory nerve. Either of these can occur naturally with age or as a result of an injury. And so, where once Christmas was filled with all the rich cacophony of seasonal sounds, it can begin to feel like a confusing blur.
Albert Camus once wrote: "noises rise in the air and are lost like balloons", similarly as part of the natural ageing process the sounds we once heard become faint or lost.
This year, our campaign is about returning the richness of seasonal sounds to your life.
At Leightons Opticians & Hearing Care, we offer free hearing assessments. Plus we offer a range of discrete digital hearing aids, like the Oticon Opn, the world's most advanced hearing aid and 50 times faster than previous models. Our Hear Now Pay Later scheme helps you spread the cost and there's a 30 day money back guarantee for total peace of mind.
It needn't be a silent night. This year, hear Christmas like you used to.