World Hearing Day: could you have hearing loss and not realise?
Mar 01, 2019 in Hearing Tests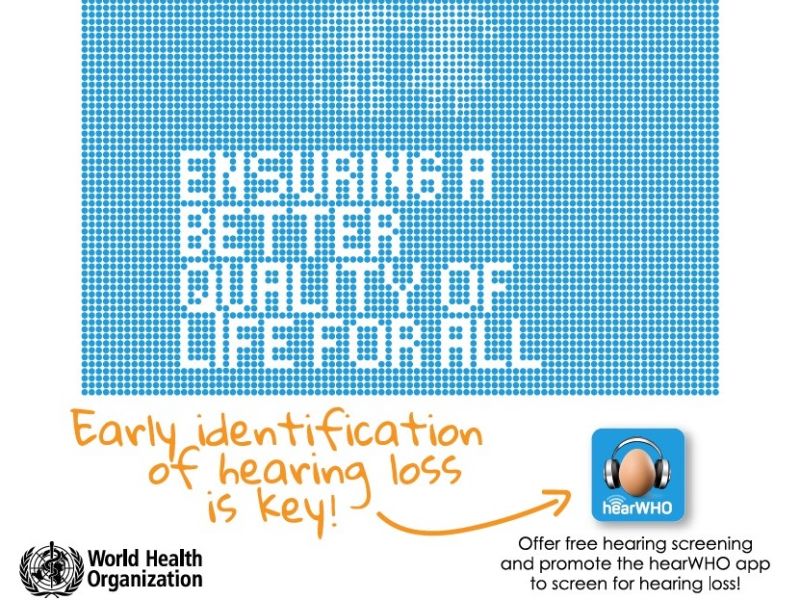 It's World Hearing Day on Sunday 3rd March, and there's no better time to draw much-needed attention to hearing loss. It's a condition that's on the rise around the world: by 2030 there will be nearly 630 million people suffering from hearing loss and by 2050 that number could increase to over 900 million.
So if hearing loss is so common, why is it easy to miss?
The short answer is that the symptoms are difficult to spot. The first indications that your hearing sensitivity has fallen will probably come from your friends and family first. This is because hearing loss develops slowly over time. But this makes hearing tests all the more essential – just like eye tests, we need to monitor changes over time.
It's important to mention that for most people, age-related hearing loss means a gradual reduction in hearing sensitivity, not total deafness (although some forms of hearing loss can involve complete hearing loss).
The symptoms of hearing loss If you have any concerns about your hearing, it's best to book a hearing test at your local hearing care centre (you can book online with Leightons). A trained audiologist will be able to detect whether you have a hearing loss, and to what extent. A few signs you could be living with this condition include:
• Difficulty understanding conversations (especially in crowded places) • Having to turn up the volume on the TV or radio • Difficulty hearing on the phone • Frequently asking people to repeat themselves
Check your hearing!
The earlier you get your hearing checked, the faster we can look at options to mitigate the effects of hearing loss. Just as your car needs a regular MOT, your ears should be checked to make sure they're firing on all cylinders.
At Leightons, our hearing tests are performed by our team of friendly audiologists. The test is non-invasive and the results are almost instant. You'll receive an audiogram at the end of the test to illustrate your hearing sensitivity. Our experts will be on hand to talk you through the next steps.
If you don't fancy a trip to an audiologist, the World Health Organisation have developed an app to help you test your hearing at home. Go to your device's app store and download its HearWHO app – you might be surprised by your results. The app is a great tool, but it's no substitute for the professionally calibrated equipment used to perform clinical hearing tests. Book yours today.
Hearing for the whole family
According to UK charity Action On Hearing Loss, more than 40% of people over 50 have hearing loss, rising to 71% of people over 70. The older you get, the greater your chance of developing some degree of hearing loss.
This doesn't mean it's just the over 50s that should be listening out for hearing loss. Although less common, people of any age can develop hearing loss. In fact, your hearing sensitivity can fall from your mid-twenties onwards.
It can affect children too, so if your child struggles to understand what you say or has delayed speech development, it's worth taking them to get their hearing checked too.
Book your hearing test today
At Leightons, we offer free hearing tests at all our branches. To find out more, give our friendly team a call on 0800 40 20 20, pop into your nearest Leightons branch or book your hearing test online.