Leightons Cobham Moves Home!
Jul 09, 2021 in Leightons News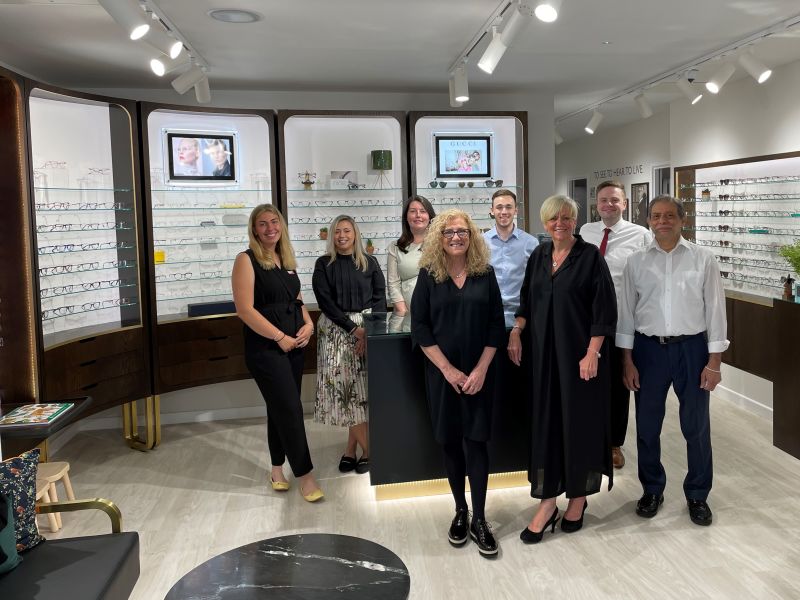 After many years in the making, we are pleased to proudly announce the opening of our BRAND NEW Cobham practice on Monday 5th July! Having been established in the Cobham community since 1978, we have been delivering expert vision and hearing care services for the past 40 years out of our previous location in Oakdene Parade. Over the years we've built up a strong rapport with our returning patients and have loved welcoming in the new faces that come through our door every day too. So, we felt it was the right time to move to a bigger and brighter new home, just down the road, in Holly Parade.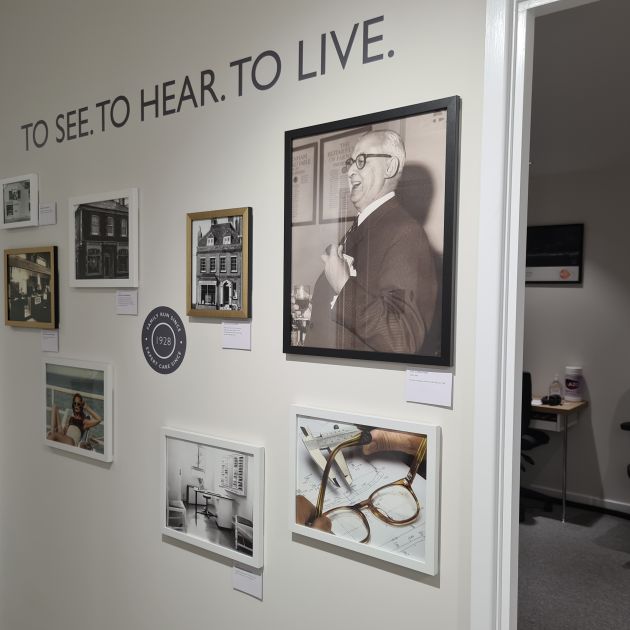 It's all in the detail
It was important to us that our practice represented everything that Leightons was built on, reflecting back on our rich history, whilst looking ahead to the future. You can see nods to our past as you make your way around our new practice, with these intricate details literally sewn into the fabric.
The story of Leightons began all the way back in 1928, when founder Henry Oscar Leighton decided to open his very own practice after years of pursuing a career within the world of optics. After four days of opening without any customers, the stars aligned and Henry Oscar Leighton received his first prescription, paid for by a single gold sovereign. He kept this sovereign as a memento of the occasion, and it has since become a treasured icon of our beginnings, reminding us of how far we've come in all those years, which is why it was so important for us to incorporate this into the design of our new Cobham practice.
"The Leightons story began with a single gold sovereign, so the use of satin gold throughout the new concept was a natural choice. It's important that our environment reflects the quality of the service and products that we offer. The new space has a luxurious feel, in display and furniture, textures and details."
– Hilary Osmon, Product Manager
Product picked just for you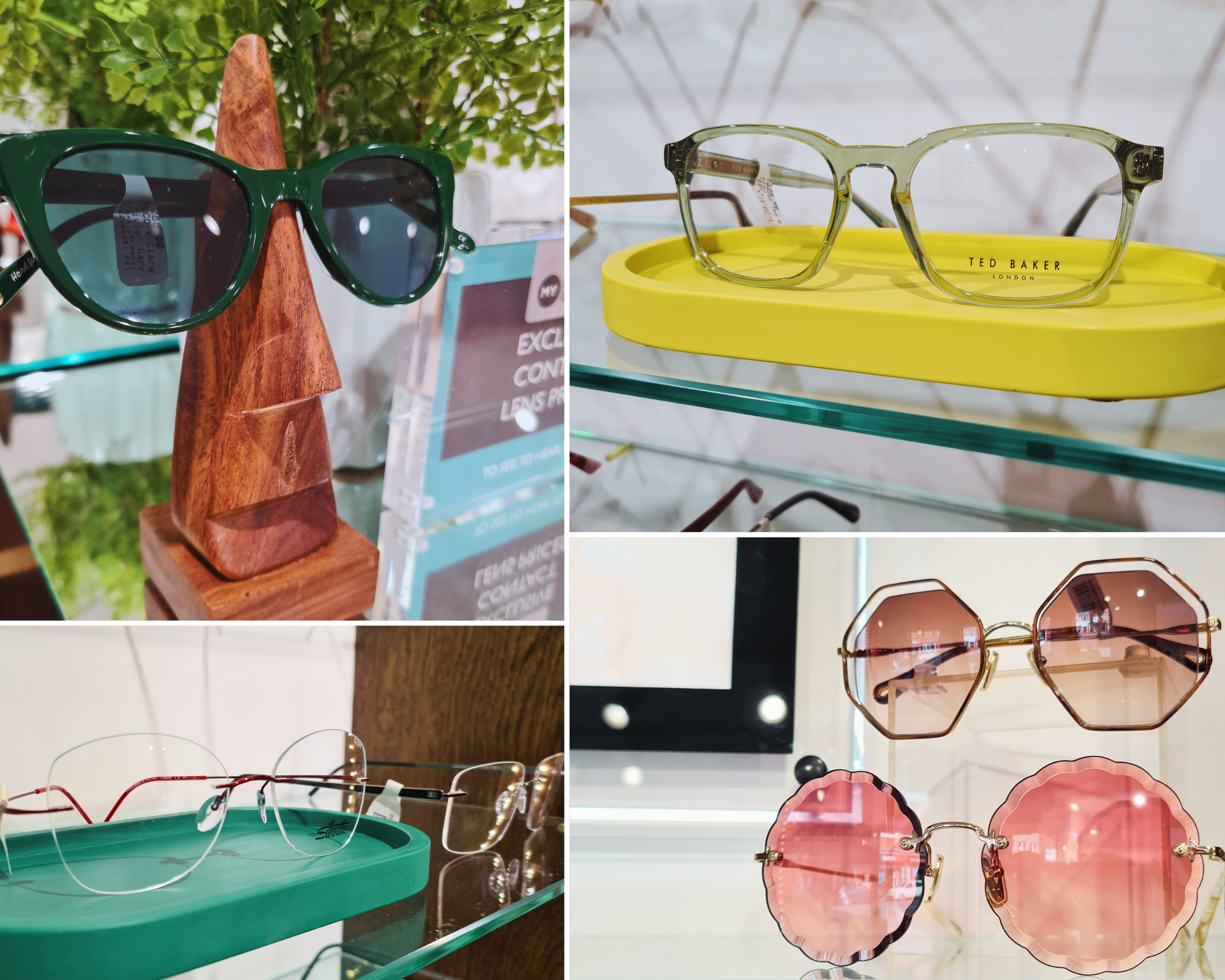 Leightons Cobham hosts an extensive product portfolio, offering everything our patients desire, from cool classics in Italian acetate through to exquisite handmade frames and bold, vibrant statement-makers. We have carefully curated every frame in our new practice, where we offer an array of brands including Gucci, Chloe, Maui Jim, Lindberg and many other favourites. We are also showcasing our very own collection Yesterday.Today.Tomorrow., inspired by our heritage, the trends of today and our hopes for the future.
Ground-breaking technology
At Leightons Cobham we have invested in the latest technologies to provide all of our customers with the most in-depth eye examinations we can. Our Ultimate Eye Examination incorporates OCT and Optomap retinal imaging so we can capture a detailed view of the back of your eye, enabling us to see up to 80% of the retinal surface as well as a detailed 3D view.
Our new Myah equipment helps us thoroughly assess the front of the eye for dryness and contact lens work, and our Hoya VisuReal Mirror, a state-of-the-art tool, offers us ultimate accuracy when taking an array of measurements to assist in the dispensing of spectacles.
We now also have a state-of-the-art audiology room, allowing us to provide you with the most comprehensive hearing care services, including FREE full hearing assessments, hearing aid dispensing, ear wax removal and many other specialist services.
Celebrate with us!

To help us celebrate our opening week we have been running a whole host of activities in and around Cobham for the community to enjoy. We have been visiting a number of care homes to deliver tea and coffee to the residents who we've very much enjoyed spending time with. All week we're also dishing out free cones for Cobham from our ice cream van which has been going down a treat!
To top it all off we have also launched 'Eye Spy Cobham', a competition running from 5th - 30th July, where we are inviting everyone to use their powers of deduction to see if they can crack clues to be in with a chance of winning very special prizes! For all of the information about the competition, including how to download the clues, submit your entry and for the full T&Cs, please visit our Eye Spy page.
Come and see us!
The team at Cobham are ready and raring to welcome you into their brand new practice.
Juliette Donnan, senior Optical Hearing Assistant and longstanding Cobham team member, shares her thoughts with us.
"Having been in our old Cobham location for so long, we've seen the area around us constantly change and develop into the bustling village it is today, and we really felt it was the right time for us to change too! As our customer base was growing day by day the move to our new practice was needed more than ever.
We've been here for a week now and all I can say is WOW! The practice is fresh and new, allowing us to offer our loyal customers more of the choices they want. All our team are so grateful for the opportunity to do what we love, in new practice that we love!" We can't wait to welcome all our patients, both old and new, back through our doors once again!
To book an appointment at Leightons Cobham you can book online or call our Dedicated Patient Support team on 0800 40 20 20.