Leightons Patients for Life
Jul 23, 2019 in Leightons News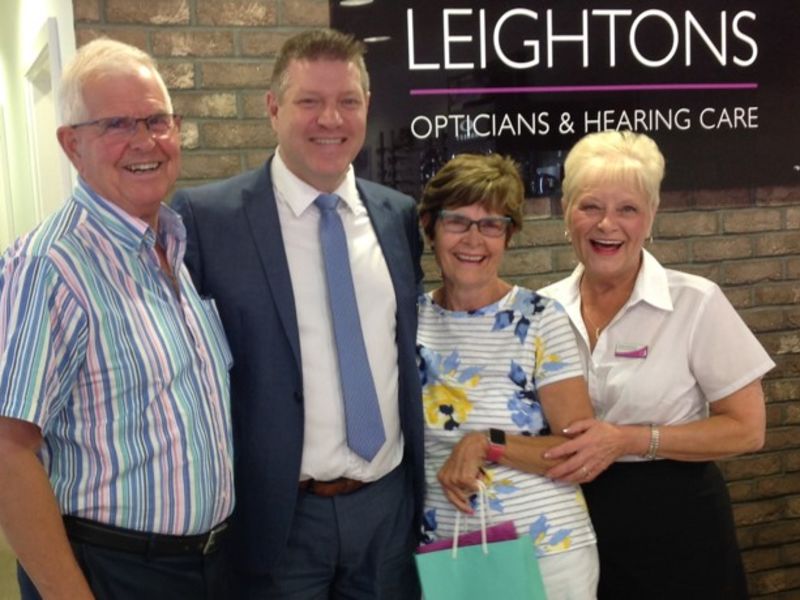 Camberley patients cross the globe to visit Leightons
At Leightons, our relationships with our customers are highly valued, and to see a couple travel across the globe to stop by Leightons means everything us.
Mr and Mrs Tilley are a lovely couple who have attended our Camberley branch since 2012. They recently moved to live permanently in South Africa and during a break visiting the UK, they decided to stop by. We take it as the highest compliment that they only trust us with their eye examinations and glasses selection, as well as remaining part of the MyLeightons Care Plan from such a distance. (Mrs Tilley is also a Hearing Care customer of ours, wearing the latest Oticon hearing aids!)
During their visit our optometrist, Andrew Cochrane, tested both Mr and Mrs Tilley's eyes and they purchased five pairs of glasses between them. Some for golfing back in South Africa, as well as general varifocals with Transitions® to help them cope with the intense African weather.
Upon collection of their new glasses, they came in gifting the Camberley team with a huge box of doughnuts as a thank you and to show their appreciation of the service they received.
Branch Manager Priya Burgul had this to say:
"For me the Leightons ethos means having patients for life and the concept of helping them to see, hear and live life to the full. Mr and Mrs Tilley are a great example of what we would like to be for every one of our patients – there for their optical and hearing needs, for life."
The Leightons goal is to enable people to live life to the full through understanding the link between hearing, vision and health. We value every one of our customers and strive to build strong relationships with them, just like Mr and Mrs Tilley. So, no matter where you are in the world, Leightons will be ready and waiting for when you come home.
If you feel you may need a new prescription or are interested in our hearing care services, simply pop by your local branch or call us on 0800 40 20 20. Alternatively, you can book an appointment with us online.