Leightons Thatcham is ready to welcome the kids this summer holidays!
Jul 21, 2021 in Leightons News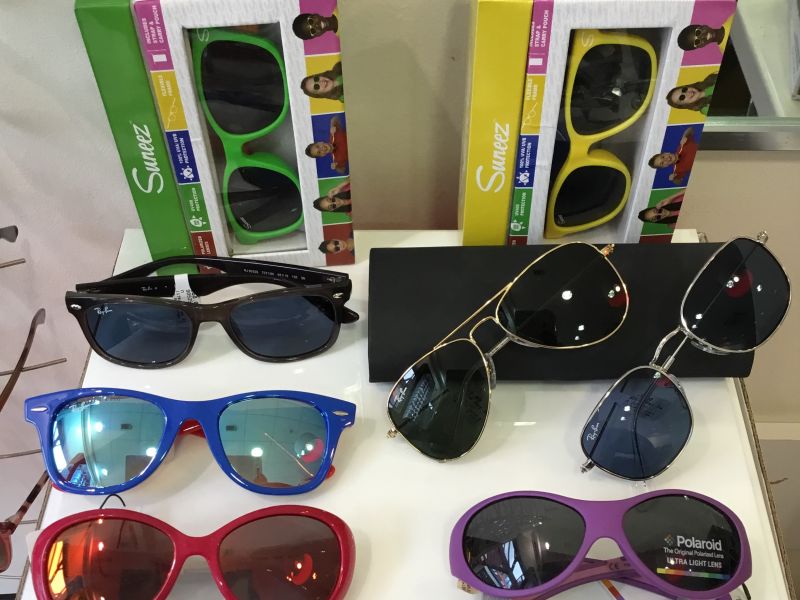 Leightons Thatcham are excited to be welcoming in the summer holidays this year with a range of children's sunglasses, from brands including Polaroid Kids, Ray-Ban Junior and Nano Vista clip-on sunglasses. This stylish selection caters for everyone and will ensure your children are summer-ready!
Meet the Frames
Polaroid Kids employ polarised lens technology in all of their sunglasses which reduces glare from the sun and allows for more comfort when wearing. Polarised lenses are especially effective around water, sand and snow, all environments in which the suns rays are more intensely reflected. Why? When light waves hit a reflective surface at an angle it creates glare, especially on bright and sunny days. The glare is combated by a polarising filter on the lenses, much like that on cameras, the filters flattens out light waves so we can enjoy being outside without having to squint. All their lenses also have shock absorbers, making them flexible, lightweight and scratch resistant, which is the ideal choice for active and energetic kids.
Hailed as one of the most recognisable eye-wear brands across the world, Ray-Ban is known for their wealth of iconic frames, including the Wayfarer and Aviator. Ray-Ban Junior still delivers these iconic looks, adapting them for childrens' small faces.
Nano Vista is a brand of eyewear exclusively designed for kids and made from "child-proof" materials, meaning that they are virtually unbreakable. Nano Vista also feature two interchangeable fixings on their frames including an elasticated head band, which can be swapped for arms, perfect for keeping the frames securely on for kids who are always on the move! Nano Vista clip-on sunglasses can also be purchased to match any of their frames, offering the highest quality polarised lenses for our little ones, built out of the same indestructible materials as the frames they magnetically clip on to.
Come and see us
If you would like to find out more about the sunglasses that Leighton Thatcham has to offer your child, then why not book a style consultation where our team will be on hand to introduce you to all the ranges and offer expert advice? To book an appointment you can call the practice on 01635 863 290 or book online. If you or your child feels they are struggling with their vision then you can also book an eye examination online too.