Speccies Farnborough are joining the team
Oct 10, 2019 in Leightons News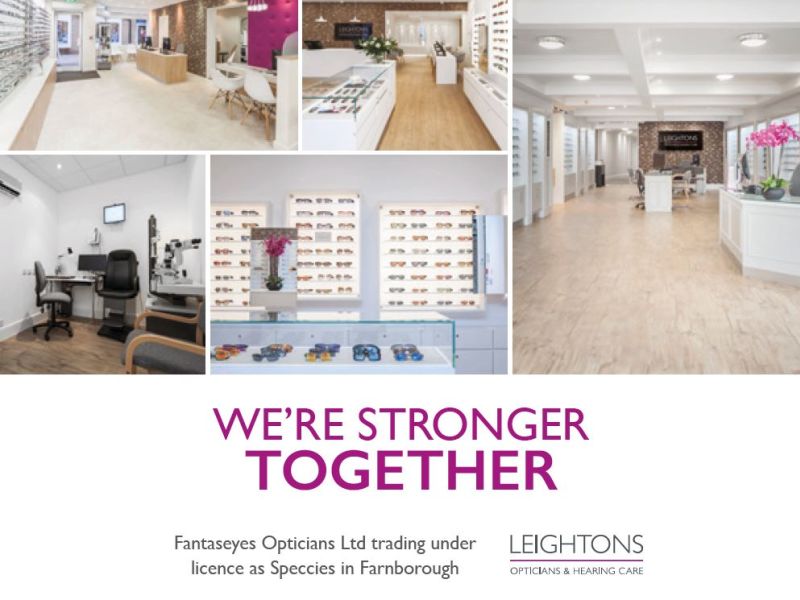 We are pleased to announce that Leightons has been joined by Fantaseyes Opticians Ltd, trading under licence as Speccies in Farnborough. We hold similar values, and take great pride in providing clinical excellence to the local community, and we aim to share our expertise to find the best optical and hearing solutions to suit our customers' lifestyle.
Customers who previously visited Speccies in Farnborough will be warmly welcomed to our Farnham, Camberley and Fleet branches, where they can still visit Kam Koonar. Alternatively, they can visit any of our other locations – to view all our branches or to book an appointment, use our Branch Finder or call 0800 40 20 20. All Speccies Farnborough customers will be contacted directly with more information, including details of data compliance relating to their records.
Leightons are offering special introductory discounts to all customers coming to us from Speccies in Farnborough. This includes a special rate for our Ultimate Eye Exam with Optical Coherence Tomography (OCT), which shows detail beyond the retinal surface of the eye into the tissue behind, allowing us to spot abnormalities up to five years before a traditional test.
To see. To hear. To live life to the full
At Leightons, we take care of your sight and hearing so that you can live life to the full. Whether you prefer glasses or contact lenses, designer frames, sunglasses for skiing, sun or fashion, we can help you find your perfect match. Our very own hearing care service also offers a free hearing assessment, wax removal and the most advanced digital hearing aids.
For more information
Please don't hesitate to contact us with any questions online or call us on 0800 40 20 20. Alternatively, you can book an appointment or just pop in and meet the team!