Think outside the box: How to protect your eyes while watching television
Nov 19, 2021 in Eye Care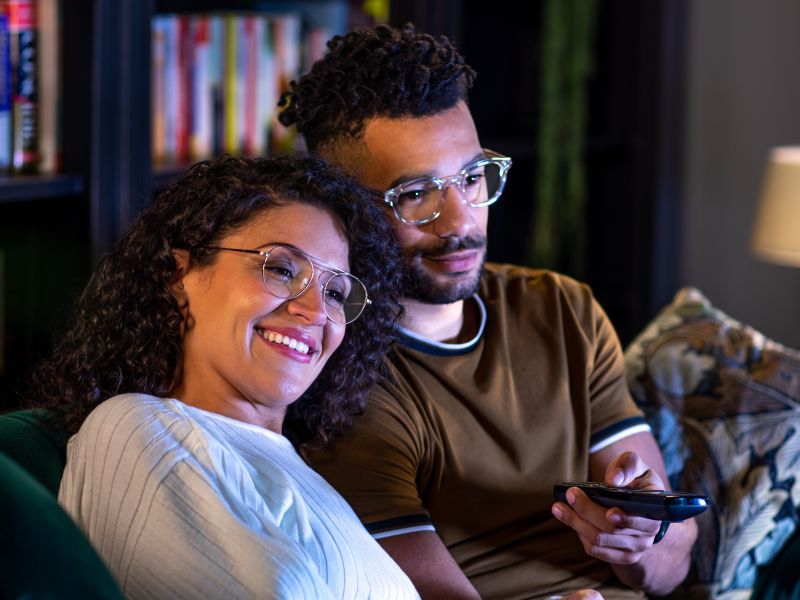 At this time of year, snuggling up on the sofa is oh-so-tempting and with Netflix at our fingertips, box-set binging is even more enticing. But do you get sore eyes whilst watching television? On average, we watch 40 hours of television over the festive period in Britain*. While your eyes won't go square, your vision can suffer: eye strain, dry eyes, headaches. So, with 'streaming season' almost underway, be sure to follow our top tips.
Break Free
The thought of taking a break from your favourite show may seem impossible, but if you can take a break, your eyes will thank you for it. Simply remember this easy rule: 20-20-20. During every 20 minutes of any type of screen viewing, take a 20 second break and look at something 20 feet away. This exercise will keep your eye muscles fighting fit.
Space is your friend
With large, HD screens commonplace in most living rooms, space is your friend when preventing eye strain. For a 40-inch TV, position yourself around 2-3m from your screen. A 50-inch display will allow you to move slightly further back, approximately 2-3.5m. Be pragmatic though – if you're squinting at a distant screen, or you feel you're too close, adjust your spacing to improve comfort and eliminate these symptoms.
Lighting & Ambience
Watching TV in the dark should be avoided – trust us, you'll be able to watch your favourite festive films for longer! When the room is dark your pupils dilate, allowing light to penetrate your eyes more easily, causing pain and eye strain due to glare. Consider having a lamp in the corner or turning on the main light in the room.
TV Glasses
Just as many of us have reading glasses, television glasses can improve vision. Ask your optician's advice if you have prescription lenses – they may recommend wearing your glasses for watching television, especially if you wear your glasses for distance tasks. An antireflection coating may also improve visual comfort and reduce eye strain.
Ask your Qualified Dispensing Optician about maximising your vision today.
Room to Manoeuvre
The placement of the television compared to windows can also play a factor during longer viewing stints. Draw the curtains to minimise glare on the screen, without the room being totally dark. It's also important to keep the TV level to your line of sight, preventing you from craning your neck and looking upwards, which can strain your eye muscles.
Eat. Sleep. Drink. Repeat.
Staying hydrated is vital for optical health, avoiding eye strain and dry eyes, especially if you plan to indulge in lengthy sofa sessions. The same goes for your diet – eating a balanced diet is great for your optical wellbeing. Rest and recuperation is also very important. After a box-set marathon your eyes need time to recover, so getting a solid 7-8 hours of sleep is highly recommended.
Book Today
Whether you're concerned about your vision health or not, we recommend regular Ultimate Eye Examinations. Book an appointment online or call our Dedicated Patient Support team on 0800 40 20 20, where our team will be happy to help.
*OnePoll.com Survey, 2017