Leightons Camberley can be found on the main high street in the centre of the town. Having been refurbished in October 2015, the store is a bright, welcoming and friendly environment. The Camberley team are also closely involved in the local community, running regular awareness events and presentations, and are also part of the Collectively Camberley local business scheme.
Branch News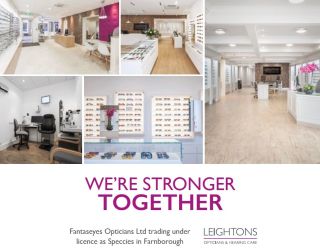 Oct 10, 2019 - Leightons News
We are pleased to announce that Leightons has been joined by Fantaseyes Opticians Ltd, trading under licence as Speccies in Farnborough.
View all branch news