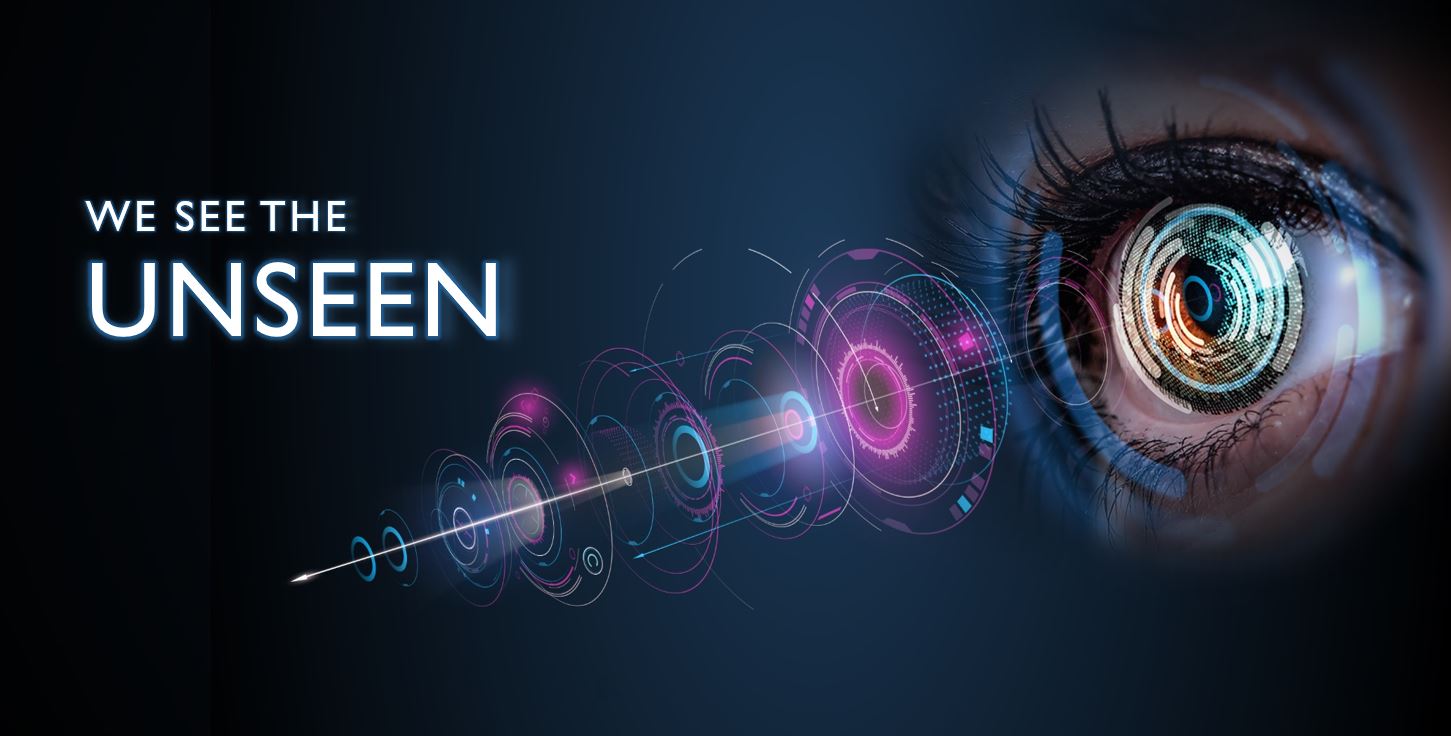 See more than ever before
At Leightons, we don't stop at standard. We're dedicated to bringing you the most thorough ways of testing your vision and the health of your eyes – we see the unseen with The Ultimate Eye Examination.
The Ultimate Eye Examination combines pioneering technology with clinical excellence to capture 2D and 3D pictures of your eyes, using Optomap and OCT in an enhanced imaging package. It is highly recommended to our patients of all ages.
Where can I have the Ultimate Eye Examination?
We're delighted to offer the Ultimate Eye Examination in almost all Leightons practices, so you should be able to find an appointment that's convenient for you.
Please note that, unfortunately, the Ultimate Eye Exam is not currently available in Fareham.
What does the Ultimate Eye Examination show?
The Ultimate Eye Exam includes imaging and checks far beyond what is available in a standard sight test:
Optomap allows us to take an incredibly detailed image of your retina (the back of the eye) and shows up to 80% of the surface in one ultra-wide panoramic view.
OCT takes a scan of the layers beneath the central retina, giving a cross-section image that helps the optometrist build a complete picture of your eye health.
Rest assured, taking images in the Ultimate Eye Examination is quick and painless – it only takes a few moments and nothing touches your eyes.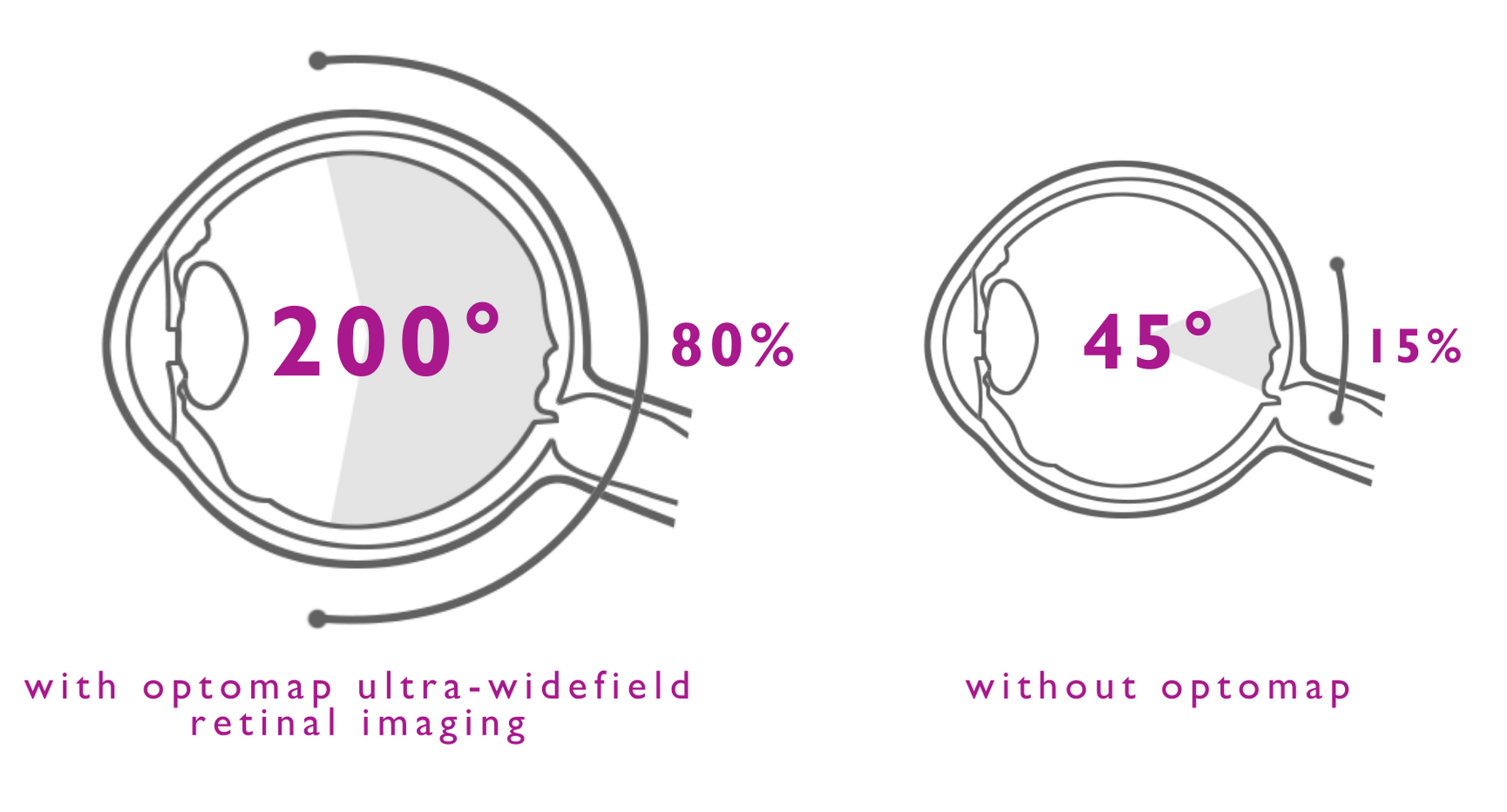 Book an appointment
You can book an appointment online, call us on 0800 40 20 20 or visit your local practice.
What is included in The Ultimate Eye Examination?
✔ Ultra-wide field and 3D retinal layer imaging
✔ Discussion around your general and eye health to ensure your optometrist understands your needs
✔ Assessment of vision with and without spectacles and determination of your prescription
✔ Eye muscle evaluation and advice
✔ Front-of-eye health assessment and advice where a further specialised consultation is required (for example relating to dry eyes or contact lenses)
✔ Back-of-eye health assessment using the ultimate in retinal imaging technology
✔ Additional tests as required such as visual field, in-eye pressure assessment and colour vision. Additional test need is determined by your optometrist and results in a personalised, tailored examination
✔ Consultation with a dispensing optician to assess current spectacles and dispensing of new spectacles as required
Why do we recommend The Ultimate Eye Examination?
Images from your Ultimate Eye Examination are saved in your medical record to compare the condition of your retinas to monitor any changes over time. This can help to spot early signs of:
Retinal holes, tears or detachment
Diabetes (by detecting diabetic retinopathy)
Hypertension
Macula conditions including age-related macular degeneration (AMD)
Glaucoma
The sooner we detect changes in your vision or eye health, the sooner we can help you manage them.
Ultimate Eye Examination for children
All aspects of the Ultimate Eye Examination are completely safe for children of all ages and, in fact, we recommend it just as we do for adults.
The NHS recommends children begin having regular eye tests from the age of three, unless symptoms such as frequent eye rubbing, squints or complaining of regular headaches are identified earlier.
Our Ultimate Eye Examination is the most comfortable test for little ones. With less time spent in close proximity with the optometrist, it's an easier option that still delivers high quality care – perfect for those with short attention spans!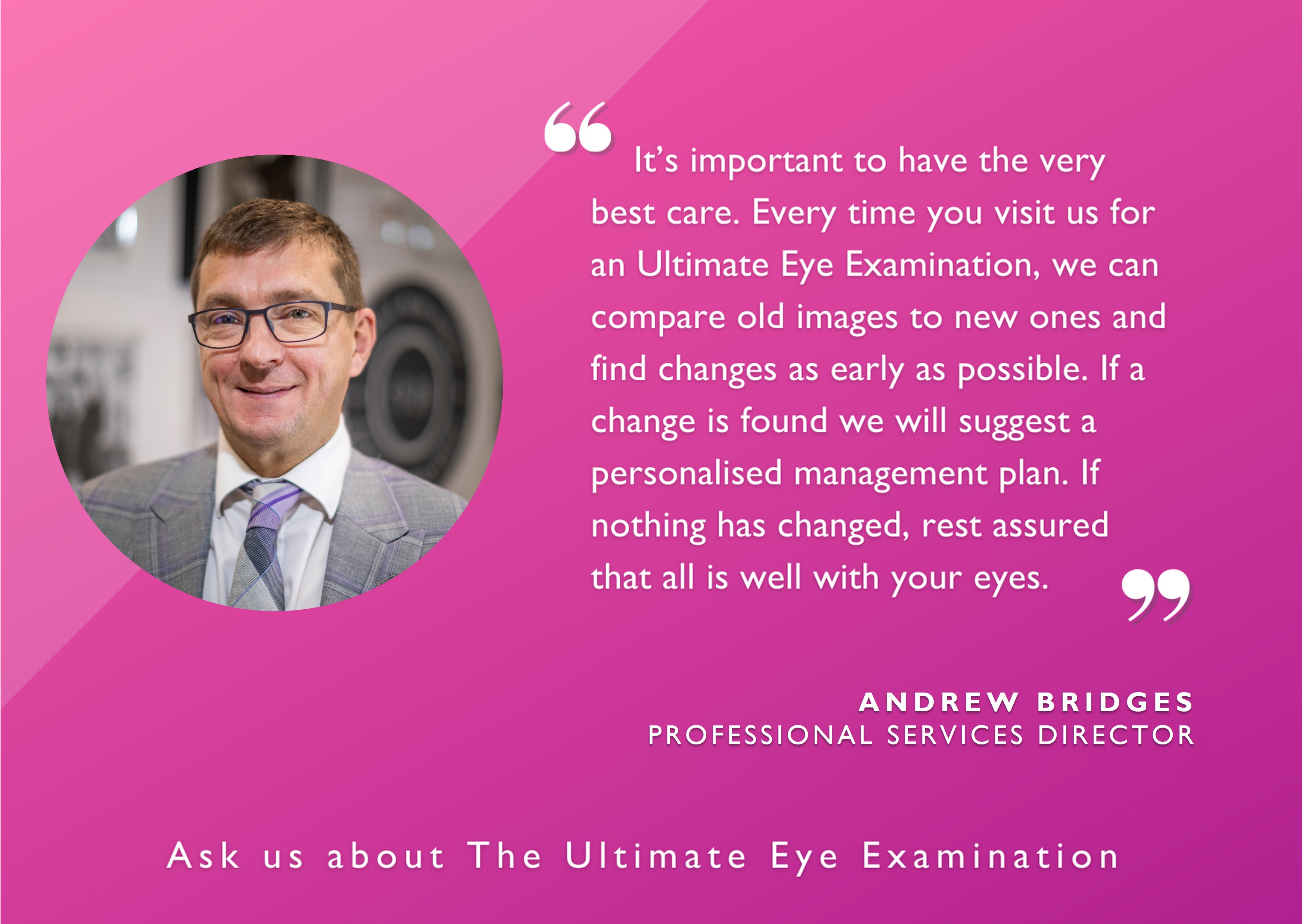 How much does the Ultimate Eye Examination cost?
All members of our MyLeightons Care Plans can enjoy an annual Leightons Ultimate Eye Examination as part of their care plan, alongside other benefits. Membership is from just £12 per month – ask in practice for more information or find out more here.
Alternatively, the Ultimate Eye Examination is £89 for private patients, £59 for NHS and just £15 for under 16s.
Book an appointment
You can book your Ultimate Eye Exam online, call us on 0800 40 20 20 or visit your local practice.