How to Choose Your Sunglasses Lenses
Jul 14, 2021 in Glasses & Sunglasses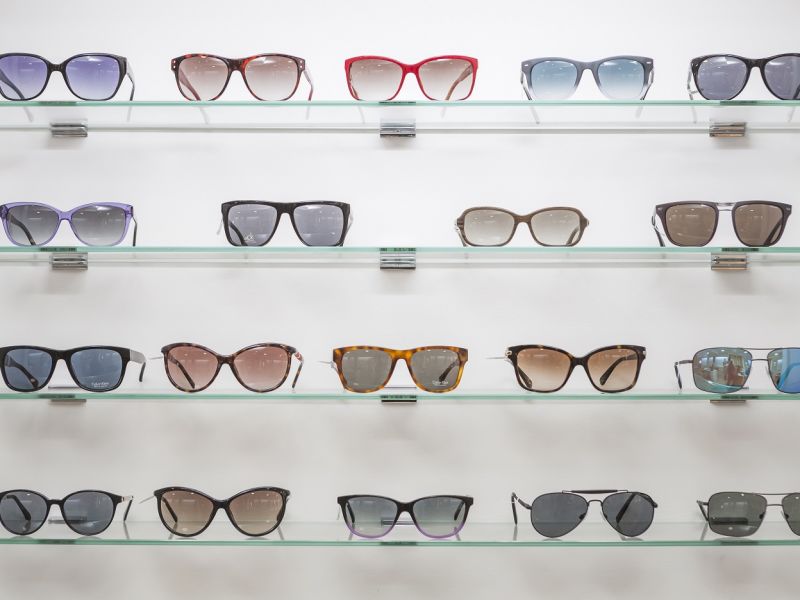 Types of sunglasses lenses
With the hopes of those long summer days and glorious sunshine finally here (albeit perhaps only occasionally in a British summer), it's the perfect time to start thinking about those sunnies. When you step outside it's important to make sure that your eyes are adequately protected from the sun's harmful UV rays, but because the different ways sunglasses are tinted means some lenses are better suited to certain environments than others, it can be hard knowing which is the right choice. So we've put this guide together to help:
Gradient lenses are tinted top down, with the top of the lens being the darkest. These are great for driving as they shield your eyes from overhead sunlight, and the lighter bottom half of the lens can help you see your dashboard. However, they are not always as dark as other types of tint and are often chosen more for cosmetic reasons.
Double gradient lenses are darker on the top and bottom, with a lighter tint in the middle band. These are useful on the beach, where they protect your eyes from the sunlight reflecting up off the water and sand, although again they are not always as dark as other tints.
Photochromic lenses adjust their level of darkness according to the amount of UV light they are exposed to. The downside of these is they tend to go dark even on cloudy days as they react to the UV, but won't change in the car.
Coloured lenses impact colour perception. Grey & brown lenses provide the least colour distortion, yellow lenses are popular with skiers whilst green is favoured by golfers. The big advantage of coloured lenses is that they provide heightened contrast and sharper focus in overcast or low light conditions which is useful in sports such as tennis or cycling.
Polarised lenses cut reflected glare and let you see into water, so they're useful to those who swim or play water sports. They're also useful for drivers as they can cut reflected glare from roads.
Mirror coated lenses have highly reflective coatings applied to the surface of the lenses to reduce the amount of light entering the eye. These are helpful when you're in exceptionally bright conditions, for example skiing on a sunny day.
A few helpful tips
Once you have decided which lenses suit you and your lifestyle best, keep these other tips in mind while picking a new pair of sunglasses.
Sunglasses must be CE-marked, or there is no guarantee of their UV protection.
Make sure that your sunglasses blocks at least 99% of UVB rays and at least 95% of UVA rays; anything less than that is just cosmetic.
Try on the sunglasses to make sure that they fit properly. They should not pinch around your head and your eyelashes shouldn't touch the frame or lenses.
'Wrap around' frames prevent light getting in around the edges of the frame
Some of the best material for sunglasses lenses is polycarbonate. These lenses are impact-resistant and also have great optical clarity.
Our Recommendations
Interested in sunglasses but stuck for inspiration? Why not give Maui Jim sunglasses a try? Founded back in 1980, Maui Jim has grown from humble beginnings selling sunglasses on a beach in Lahaina, Hawaii to one of fastest-growing premium polarized sunglass manufacturers in the world.
Renowned for their advanced lens technology, Maui Jim sunglasses are available both in prescription and non-prescription, offering UV400 sunglasses across all their range. But what are UV400 sunglasses you may ask? UV400 sunglasses block 99-100% of ultraviolet light, offering the highest level of protection for your eyes. So you can rest assured that if you choose a pair of Maui Jim sunglasses, you'll have the best protection against UV whilst feeling great in stylish and on-trend frames.
Get your look
If you're looking for new sunglasses this summer, then now is the perfect time to book a style consultation with your nearest Leightons Opticians & Hearing Care practice. We will be there to help you choose from our wide range of great-looking sunglasses, so you can find the perfect pair to suit your needs. Book you sunglasses consultation online or call 0800 40 20 20 to request an appointment.
While you're at the branch, why not book an eye exam as well? Should your eye exam suggest that you need prescription lenses for your sunglasses, we can customise your chosen frames with the appropriate lens prescription. Just call us on 0800 40 20 20 or book an appointment online.