Exclusive Götti event at Leightons Reading
Nov 13, 2023 in Events
Leightons Reading hosted a special Götti Trunkshow on Thursday 2nd November 2023, where we presented our guests with an exclusive display of glasses and sunglasses from one of the world's most cutting-edge brands.
Götti is known for its stylish and innovative eyewear designs, often characterised by minimalist and contemporary aesthetics. Götti eyewear is crafted using premium materials and is well-regarded for its attention to detail and craftsmanship. The brand has gained popularity for its unique and fashionable eyewear collections, and it is often associated with luxury and sophistication in the world of eyeglasses.
To make this event even more special, we offered exclusive discounts on all Götti frames purchased on the day. Additionally, guests enjoyed complimentary goodie bags, snacks, refreshments, and had the opportunity to engage with a Götti expert who was present to answer any questions.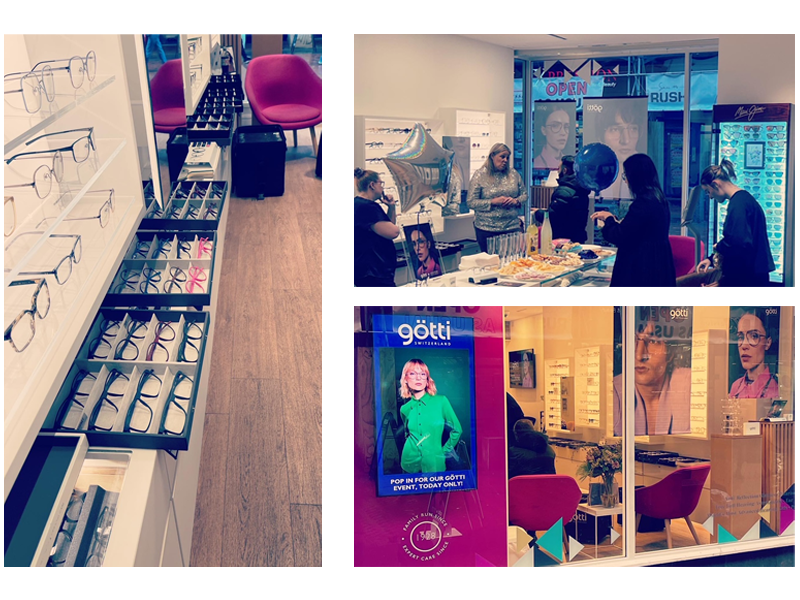 The Leightons Reading team extends a heartfelt THANK YOU to everyone who joined us on the day to explore and delve deeper into the world of Götti. We sincerely hope you found it as enjoyable as we did! We are looking forward to another Trunkshow next year.
If you couldn't make it this time, don't fret. We always have a great selection of Götti frames. Feel free to drop by at your convenience, and we'll be delighted to showcase the collection to you.
Whether you'd like to book your next eye examination or a style consultation, you can book online or call the reading branch at 01189 590 055.