Packing for a holiday? Everything you need to protect your eyes in style
Jun 20, 2022 in Glasses & Sunglasses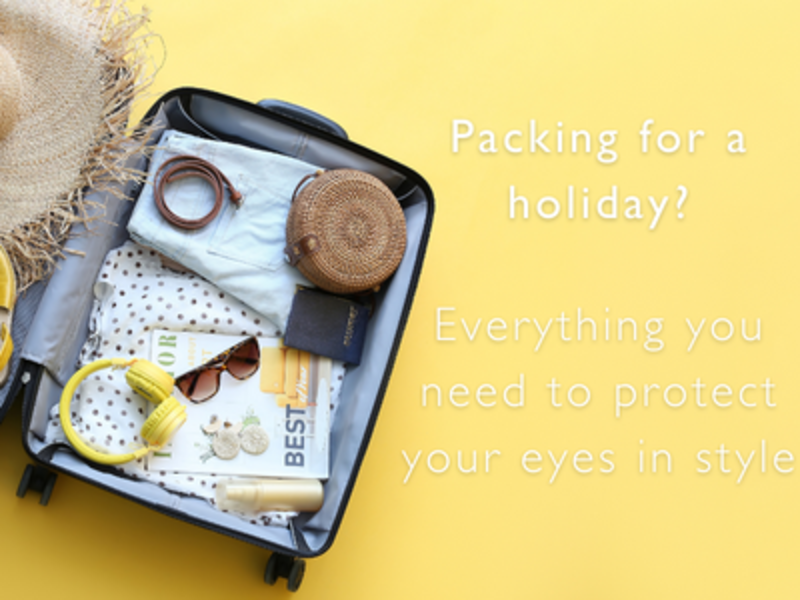 You wouldn't head down to the beach without a bottle of sun cream to protect your skin, and the same should go for your eyes. Take a look at our guide to the best products to take on holiday to keep your eyes safe from those harmful UV rays.
Sunglasses aren't just for looking cool
A pair of designer sunglasses might look great with your outfit and give the world that rosy tinted glow – but remember the real reason for them is to protect your eyes from the sun. That's why it's crucial to ensure that your lenses have certified UV protection.
A good pair of sunglasses will carry the 'CE' mark or British Standard BS EN ISO 12312-1:2013 and may have UV400 – a safe level of UV protection.
At Leightons, we have a fabulous selection of sunglasses, including beautiful Maui Jim sunglasses, that meet the highest standards of protection. So, if your current sunnies aren't up to scratch, you can give them an upgrade by browsing through our ranges in store.
The power of polarisation
Another excellent piece of technology for your sunglasses is polarised lenses. These are helpful when the light is bright, harsh and causing a lot of glare. You know, like when you're driving off into the sunset!
Developed in bright and sunny Hawaii, Maui Jim sunglasses have a patented PolarizedPlus 2 technology that you can rely on. The lenses work like a blind does, breaking up the light waves and eliminating glare but allowing the full spectrum of colours to come through.
Sun's out, hats out
Of course, another great way to protect your eyes from the sun is to fully shade them with a stylish wide-brimmed hat or peak cap. This will have the added bonus of keeping your face out of the sun too (and maybe even your shoulders depending on how big it is!). Hats are also a great solution for babies and children who might have issues keeping a pair of glasses on their wee heads!
Upgrade your prescription glasses
Remember, it's not just on holiday that our eyes need protecting – even when it's not gloriously hot, UV rays from the sun can cause damage to our eyes right here in Britain too. So, if your regular glasses don't have UV protection it's a great time to get a new pair to match your summer wardrobe.
If you need any help choosing the best pair of frames and UV protection for your prescription and lifestyle we're always ready with expert advice. Give us a call on 0800 40 20 20 or pop in to visit your local branch, and one of our friendly team members will answer all your questions.