Everything you need to know about keeping safe in practice: FAQ on COVID
Oct 23, 2020 in Leightons News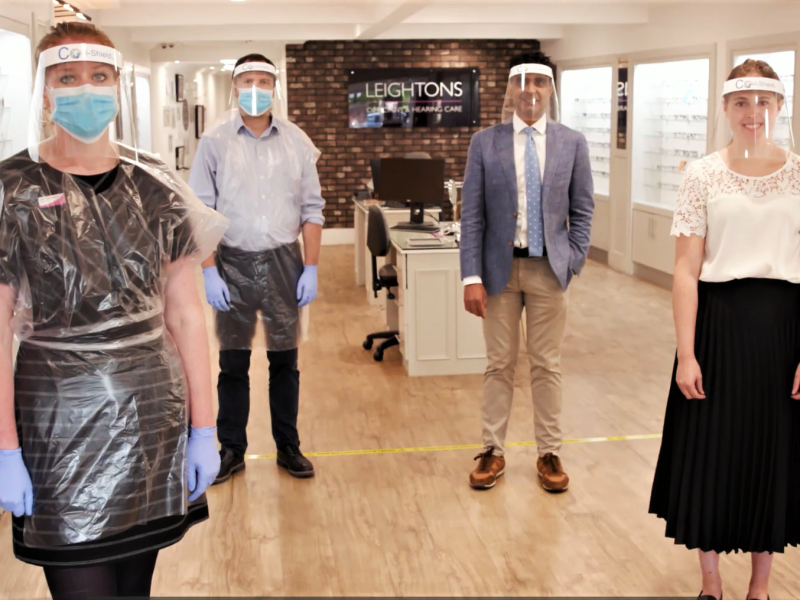 Even though these are unusual times, we would like to assure you that although we are working differently, we are here to provide ongoing enhanced care for all our patients.
How are we keeping everyone safe at Leightons?
As always, we ensure the very highest standards of service and care in all our practices. With your wellbeing at the heart of what we do, we have put a series of measures in place to ensure the safety of you and our teams.
We are very carefully following the advice from HM Government, The NHS, Public Health England and our professional bodies.
To ensure everyone's safety we have:
Carefully completed risk assessments for all our practices and implemented all requirements
Provided thorough training for all our staff
Increased hygiene and sanitising routines throughout the day
An appointment only basis to look after everyone in a safe way
Limited the number of people in our practices to meet social distancing requirements
Installed acrylic screens on our reception desks
Installed social distancing floor markers and stations near our doors to keep everyone safe
Multiple hand sanitising stations throughout each of our practices
A continuous supply of PPE – face masks, face shields and disposable gloves and aprons to keep us all safe
A daily questionnaire for each of our staff to follow and ensure they do not attend work if they or their close contacts have COVID-19 symptoms or if they have been asked to isolate by NHS Track and Trace.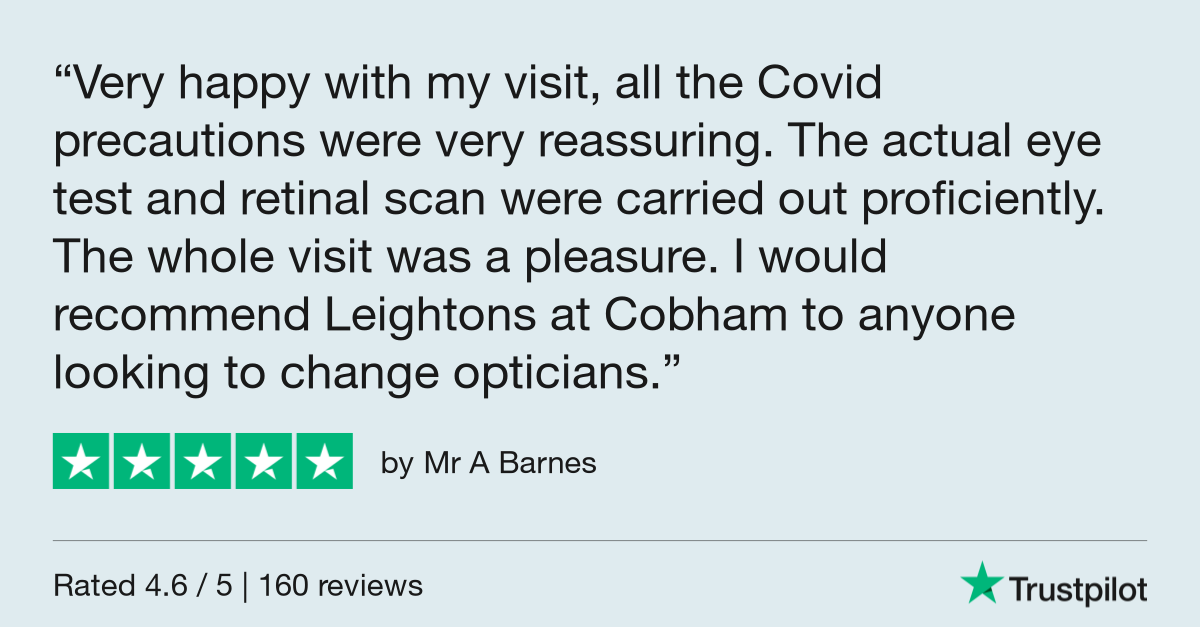 Are you offering appointments during the pandemic?
Yes, you can book online or call our Dedicated Patient Support team on 0800 40 20 20. We are operating on an appointment only basis to ensure we keep everyone safe. Prior to your appointment we may contact you to ask a series of questions about your general, eye and ear health as well as specific questions about coronavirus, ensuring it is safe for you to attend your appointment.






What will the practice be doing to limit exposure and adhere to social distancing?
Within the practice, we are following social distancing guidelines with a book-only policy to limit the number of patients in the practice at any one time. In addition to this, there are markers on the floor showing you where to stand or queue.
During this time, we regret to say that we may not be able to accommodate patients who arrive late for their appointment. Our appointments are managed to ensure social distancing and our book-only policy limits the number of people in practice at any given time. If you are running late for your appointment, please call the practice or our Dedicated Patient Support team on 0800 40 20 20 who will be happy to reschedule your appointment for another day.
Will the optometrist and/or audiologist be wearing PPE?
Yes, please expect all team members to be wearing masks and additional PPE where required. Your optometrist, audiologist and/or qualified dispensing optician will be wearing appropriate PPE which will include face masks, face shields and disposable gloves and aprons. Between each patient, our team will replace their apron and gloves so you always know you are in a safe and sanitised space.
I need an emergency appointment, what should I do?
If you suspect you have an eye emergency, for example experiencing new or changes to floaters in your vision, sudden eye pain, sudden loss of sight or flashing lights, please do not make an online booking. Call NHS 111.
Do I need to wear a mask?
As it is now mandatory to wear face masks and face coverings in all shops (unless you fall into the exempt group), we require you to wear a face mask or covering at all times whilst visiting us in practice. Please visit the government website for more information. If you are exempt, please let us know when you book your appointment.
If you're struggling to wear your mask with your hearing aids, take a look at these useful tips. If you have questions about wearing glasses with your mask and for issues like fogging up, see our tips on wearing a face mask with glasses.
We may call you in advance: why might you have to have a telephone consultation?
We like to give you a call to check in with your eye, ear and general health before you to visit us, including specific questions about coronavirus. An initial telephone consultation allows us to find out which services you require from us, how urgently you may need to be seen and if a face-to-face appointment is necessary.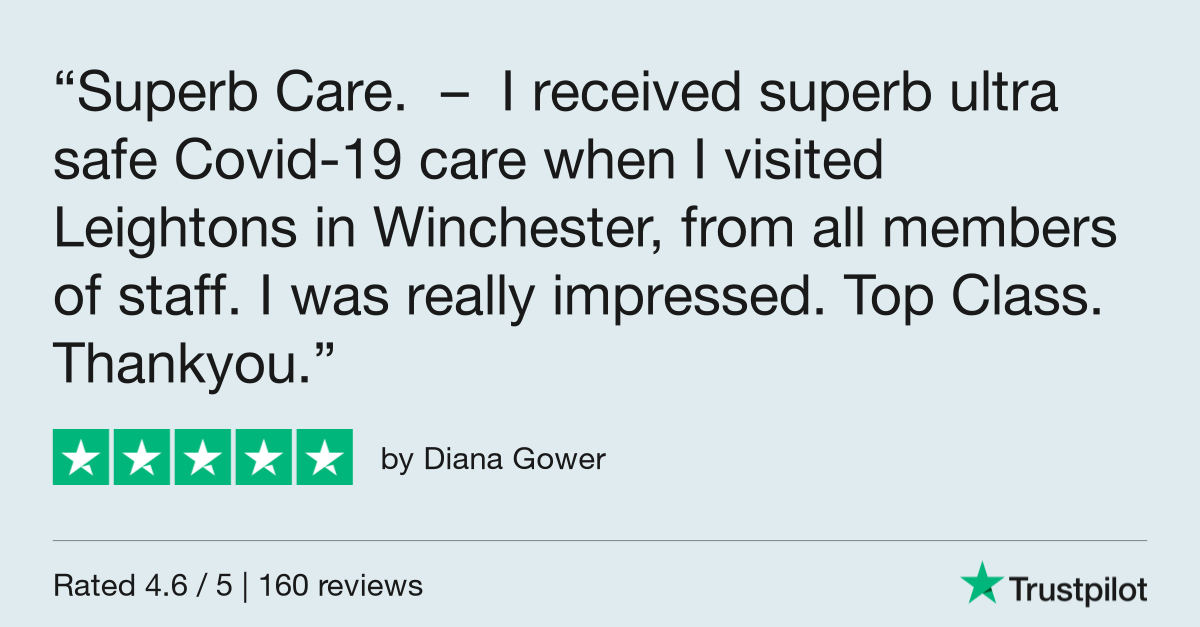 Can I pop into my local practice for a repair on my glasses or hearing aids?
We are running appointment-only services at all of our Leightons Opticians & Hearing Care practices. We do not recommend you visit the practice without calling ahead and booking an appointment to have your glasses or hearing aids repaired.
Depending on the problem with your spectacles, some repairs can be done on the same day, whilst other repairs or replacements can take several days. Glasses can be brought to your appointment, dropped off and collected at your local practice.
Hearing aid repairs are being done by appointment only. Most things can be fixed in practice by your audiologist but if it is a more complicated issue, then we will send your device directly to the manufacturer so you get the highest level of care and service.
We can also send out supplies to you such as hearing aid batteries and filters. We are able to provide a phone or video call to see if we can help solve any concerns you have, remotely.
Call our Dedicated Patient Support team on 0800 40 20 20 to book an appointment with your audiologist or request a call back for hearing aid supplies and accessories.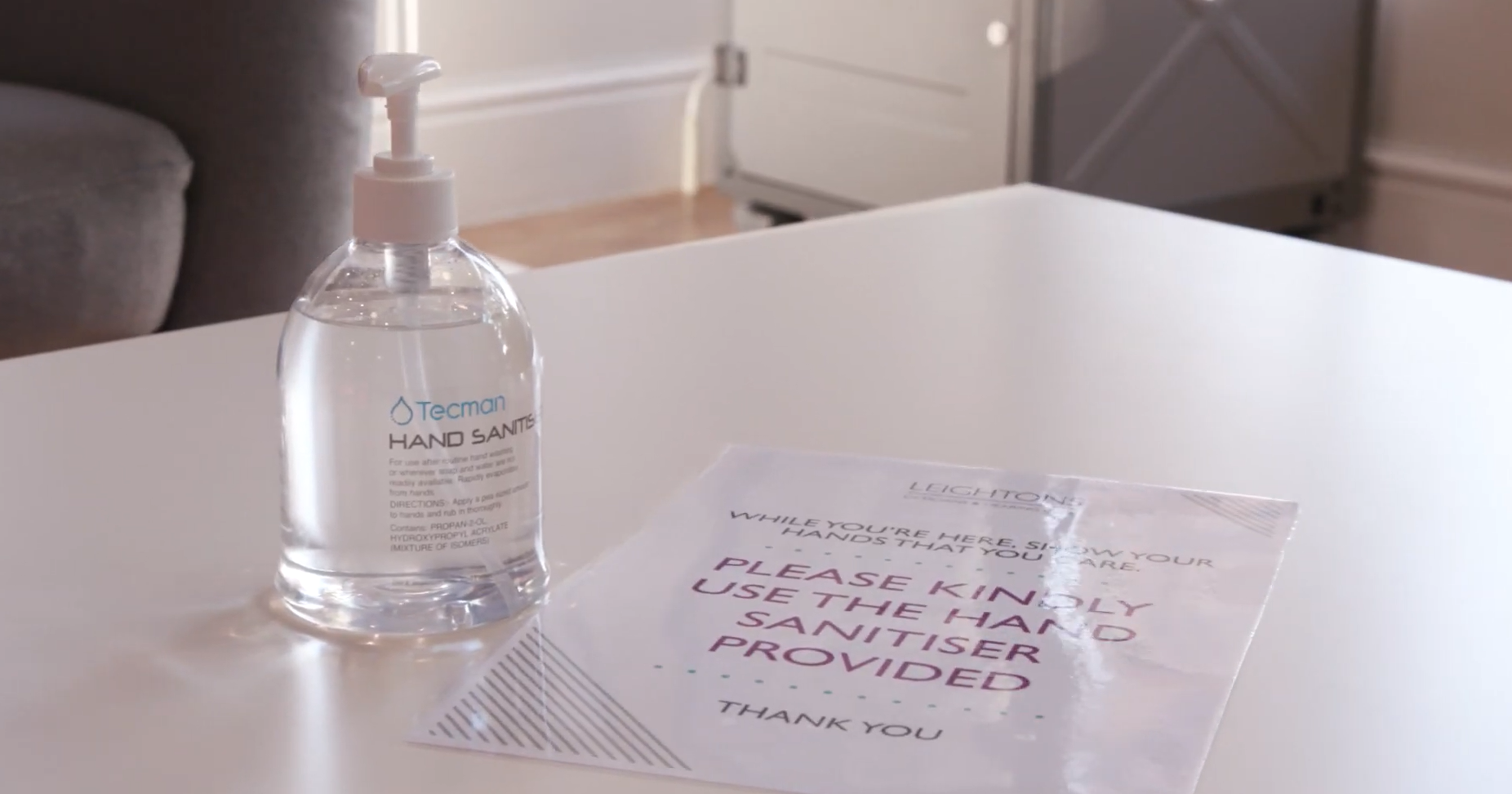 I am shielding, how can I access vision and hearing care? What remote services are available?
If you can't visit us in person, we're still here to help. Our fully-qualified team is available remotely for all queries and requests, including glasses or sunglasses repair, contact lens ordering and hearing aid support.
If you are an existing patient and wish to reorder contact lenses, solution or dry eye products, please call 0800 40 20 20 or get in touch with your local practice. See a full list of practices and contact details.
For all other services, please book an appointment by calling us on 0800 40 20 20 or online.
Is it safe to try on new glasses?
We provide a concierge service as part of the new frame selection. For your style consultation, you will be greeted by a qualified dispensing optician to advise and help you select new frames based on your updated prescription and lifestyle. All frames will be passed to you on a sanitised white tray, the glasses themselves will also be sanitised before you try them on and will not be placed back on the shelf until cleaned.
In a selection of practices, you'll also find a Hoya magic mirror which is a digitalised way of measuring your eye wear and alignment of your lenses to achieve maximum performance with your glasses. This allows your qualified dispensing optician to provide the same high level of care and service, whilst keeping their distance.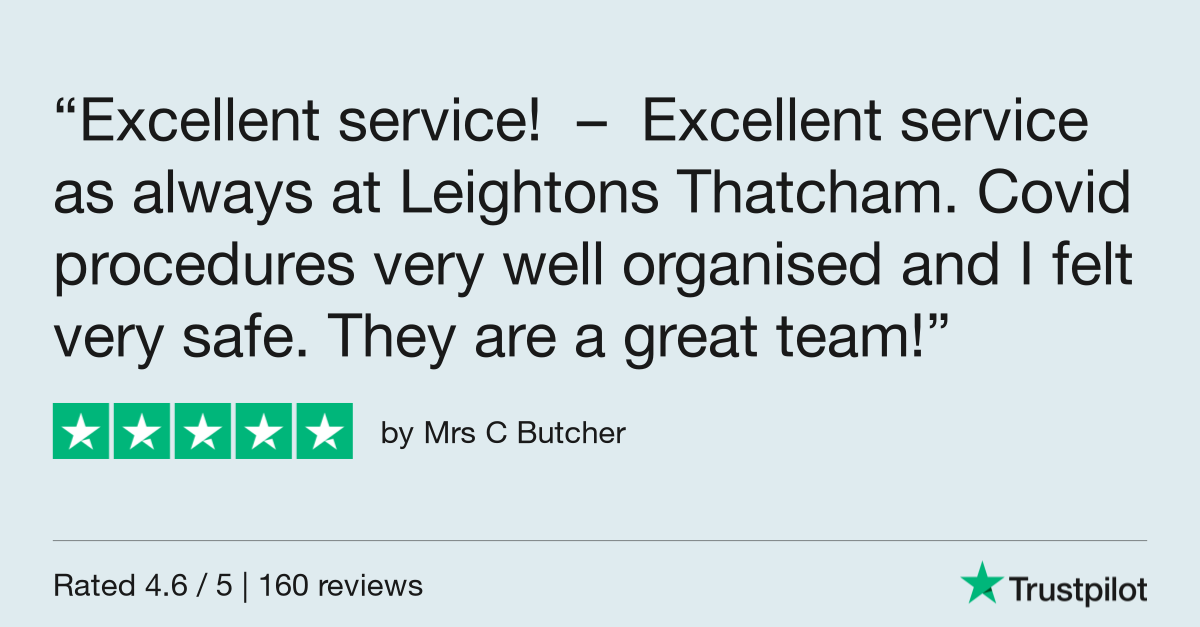 Can parents, guardians or carers join me at my appointment?
Where possible, we ask all patients to attend appointments alone in order to maintain a minimum number of people in the practice at any given time. However, we understand that sometimes a chaperone is required to assist at an appointment, for vulnerable and/or young people. We do ask that additional adults keep their distance where possible from both the patient and member of the Leightons team.
Contact lenses: Can I continue to wear my contacts through the pandemic?
To date, there is no evidence to suggest contact lens wearers without any symptoms of COVID-19 should stop wearing their contact lenses. If you are ever unwell, have a cold, flu or symptoms of COVID-19 then its best to avoid wearing contact lenses. So, it's important to always have an up to date pair of glasses to wear on these occasions.
Currently, the best advice is to avoid touching our faces as much as possible, always thoroughly wash your hands with soap and warm water, rinse them under a running tap and thoroughly dry with a disposable paper towel, if possible.
Contact lenses provide hassle-free vision especially when wearing a face mask, face covering or face shield. Unlike glasses, they won't fog up your vision. But don't forget, we do have No Fog lens cleaning wipes and cloths for your glasses.
We always advise to thoroughly wash and dry your hands before handling contact lenses but if you must use sanitiser please make sure it has fully dried before touching your eyes or handling your lenses. Allowing your hands to fully dry is especially important because hand sanitiser usually contains alcohol, and your eyes will sting if there is any residue under the lens. There should be no need to wear surgical gloves when handling your lenses, it can make things even harder – just make sure you have washed and dried your hands properly.
Always follow the instructions you have been given to care for your lenses:
Change them at the appropriate time
Use the correct care solution and follow the instructions
Clean your lens case everyday with your care solution and allow it to fully air dry
Some people experience Mask Associated Dry Eye – so if you've been advised to use comfort drops, please continue to use them, but make sure you thoroughly wash your hands before touching your eyes.
We are here to help, so if you have any queries or concerns, please feel free to talk it through with us. You can call us on 0800 40 20 20 or speak via our web chat to one of our Dedicated Patient Support team at leightons.co.uk.
Book your appointment today
You can book appointments for vision (such as Eye Examinations) and hearing care (such as FREE Hearing Test, Tinnitus Consultations and Ear Wax Removal) online.
Alternatively, call our Dedicated Patient Support team on 0800 40 20 20.
And don't worry, if you can't come and visit us in practice, please ask about our remote care appointments.