Christmas spirit in Leightons Haslemere
Dec 16, 2019 in Leightons News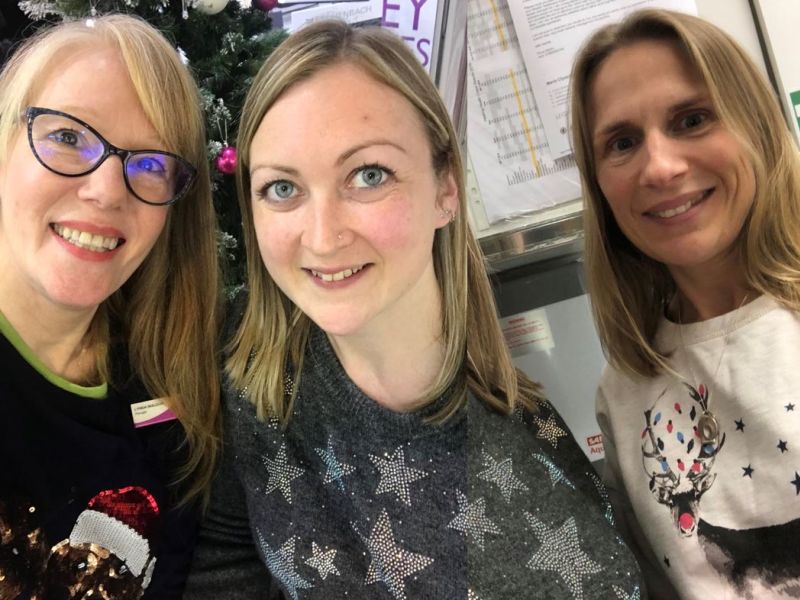 Giving back this festive season
Leightons Haslemere are known for never doing things by halves and when it comes to Christmas – it's no different!
The same goes for their fundraising efforts. The tradition for the team in Haslemere was to exchange Secret Santa gifts at Christmas time, deciding on an amount to spend and picking names from a hat. It would only be a small gift and although some have been lovely, creative gifts in the past, as with most things these days – they weren't really things the team needed.
Time for change
With this in mind, the Haslemere team decided this year that instead of their usual Secret Santa, they would donate money to a local cause. They chose the Haslemere Food Bank. They raised £60, which came from the money we would have normally spent on each other. They gathered lots of Christmas goodies, such as mince pies, Christmas cake, Christmas pudding, biscuits, crackers and crisps, which had all been specifically requested by Haslemere Food Bank.
Lynda (Branch Manager) and Katie (OHA) shopped for the items and delivered them to the Methodist Church on Saturday in time for the Christmas distribution.
This year, they've been more focused than ever on raising money for charity in the branch. Some of the charities that they've donated money to include: Savi-Surrey Association for Visual Impairment, Pancreatic Cancer Action, MIND, Macmillan and Save the Children.
Doing more
The Haslemere team have also been more aware of their environmental impact and what they can do in terms of sustainability. Recycling and offering eco-friendly products is where they decided to start.
In 2019 Lynda and the team have collected over £400 for various charities and made plenty of donations in terms of gifts, including sending big boxes of glasses to Vision Aid Overseas every month – a great charity to support, lowering plastic wastage and providing eyewear for those that may not otherwise have access to it.
They've also started recycling contact lenses and contact lens packaging through Terracycle, with 2-3 large boxes filled so far. In addition, in January they became stockists of Eco eyewear – an environmentally friendly glasses brand whose frames are all made out of plant- based materials. Eco plants a tree for every pair of glasses sold, something that has interested the local community of Haslemere and therefore proven to be one of Haslemere's most popular brands this year.
What a year!
Haslemere's Branch Manager, Lynda Skeldon, said "I'm really proud of what the Haslemere team have achieved this year and I hope we've been able to spread a little Christmas cheer for families that are really in need."
Leightons Haslemere will continue their efforts to support various charities and become more and more conscious of their environmental impact. Our recent partnership with The Woodland Trust helps to cement this and you too can get involved. Find out more here.