Leightons Haslemere supports the Macular Society
Feb 18, 2019 in Leightons News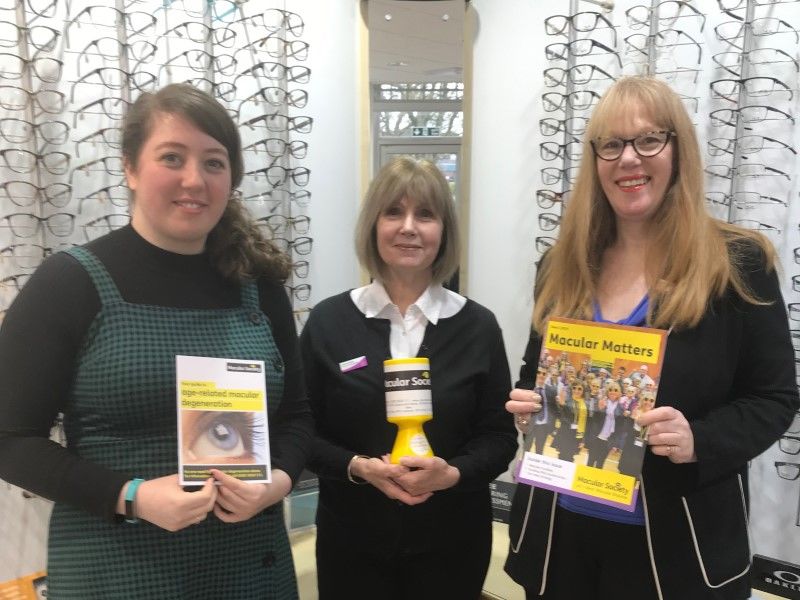 Fundraising in Haslemere for the Macular Society
Leightons Haslemere branch has been raising money for the Macular Society throughout the year in order to raise awareness of macular diseases and to support the charity. In recent months, thanks to the generous local fundraisers, Leightons Haslemere have raised over £200 for the Macular Society!
Branch Manager Lynda had a few words to add:
"We decided to choose our local Macular Society as we have several patients who are severely affected by this disease. We thought it would be a good idea to raise some money and raise awareness in practice at the same time. We continued to encourage patients to pop a few coins in the tin when they offered to pay for small adjustments and other services we provide free of charge. The tin was very full and on emptying it we found several bank notes and even a cheque for £100, so we have some very generous customers and would like to say a big thank you."
Macular disease is the nation's biggest cause of sight loss, with nearly 1.5 million people being affected in the UK alone. There are various types of macular disease that can affect people of all ages. The most common is age-related macular degeneration (AMD), which usually affects those over the age of 50. Macular disease significantly impacts people's quality of life as it affects their central vision, including their ability to read, drive and recognise faces.
About the Macular Society
The Macular Society is a UK-based charity aimed at supporting those whose lives are affected by various macular diseases and is supported by Leightons. Donations to the Macular Society go towards research for new treatments and a potential cure, as well as providing emotional and physical support to those who suffer the disease and families who may be also affected.
If you have any concerns about macular disease, you can find more information on the Macular Society's website or on our blog here. At Leightons we offer the Ultimate Eye Examination which will includes an Optical Coherence Tomography (OCT) scan, that can help to detect serious eye conditions, including macular degeneration, up to five years earlier than traditional testing methods. Our optical experts can also provide advice on lifestyle changes to help prevent and minimise the risk of developing a serious eye condition. Book online, or call your local branch today on 0800 40 20 20.