Leightons Tadley is "All Eyes and Ears"
Oct 16, 2019 in Leightons News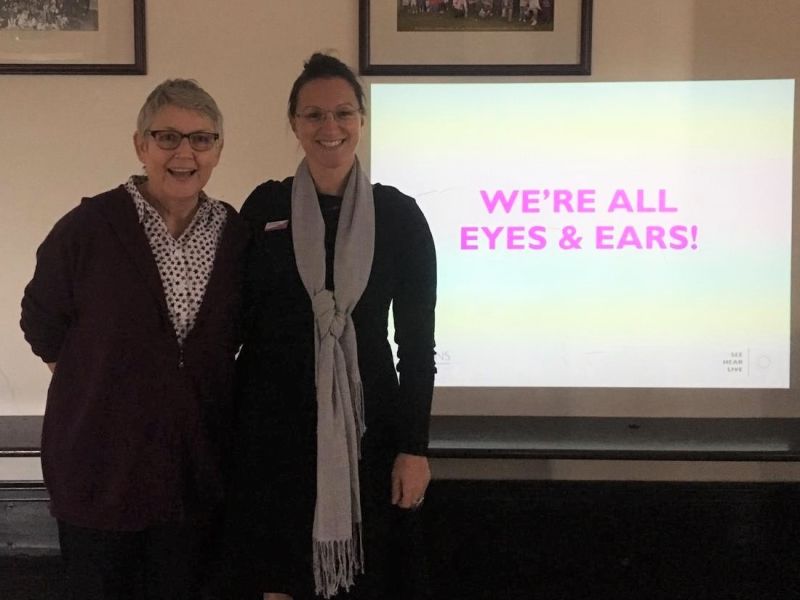 At Leightons, community support is a key part of our DNA, which is why we like to regularly hold open days and visit local groups. Our aim is to educate everyone on the importance of taking care of your hearing, as well as your eyesight, and allow our professional team to answer any questions or concerns.
A visit to Aldermaston WI
Recently, our Professional Services Manager Bryony Allen, Branch Manager Aly Pragnell and Audiologist Lydia Paniccia visited the Aldermaston Ladies Group to raise awareness of the importance of a regular eye exam.
During this visit, Bryony spoke about important things to consider with vision, from driving standards to ensuring your vision does not impact your lifestyle, hobbies and activities. Not only this, but Bryony went into detail on several aspects of eye health, such as cataracts, age-related macular degeneration and glaucoma, and explained how conditions like these can be identified early through the Leightons Ultimate Eye Examination.
Following on from Bryony's presentation, Lydia discussed hearing care at Leightons, the signs and the solutions. Lydia informed the ladies that every Leightons branch offers a FREE hearing health check to help identify where their hearing is at, and whether the audiologist feels any further action needs to be taken to help improve their lifestyle.
Visit the team at Leightons Tadley
Overall, the visit was a great success, with Aly ending the day sharing the exciting news with the Ladies Group that Leightons Tadley will be relocating to a bigger location, which will allow for more appointments, more product and increased opening hours. From Monday 18th November the branch will be located at 74 Franklin Avenue, Tadley, RG6 4ET.
If you're interested in having a FREE Hearing Assessment, or booking an Ultimate Eye Examination, you can book here, or call your nearest Leightons branch on 0800 40 20 20. Aly and the Leightons Tadley team look forward to welcoming you to their new branch soon.